Last Train South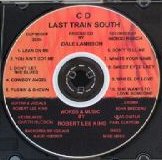 [CD]
10 tracks recorded by rock outfit Last Train South, a group formed by lead singer and songwriter Robby King. The sessions took place in 1989 at the Indigo Ranch in Malibu, CA, the former Moody Blues owned studio. Garth Hudson was a member of Last Train South. Garth plays keyboards, while Garth's wife Maud Hudson contributes backing vocals.
The 1989 album was never released, but six of the tracks surfaced in December 2005 on a CD titled Cowboy Angel.
Track 4, "Cowboy Angel" (available below) -- performed on the CD by Last Train South in the Indigo Ranch Studio -- was later performed (with permission from Robby King) by Garth Hudson and Friends with Maud Hudson on vocals, backed by the New York Choral Society, in Saint Ann's Church in Brooklyn Heights, New York, April 1990.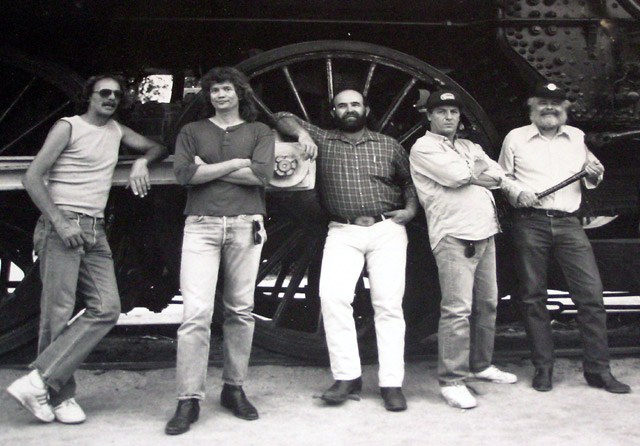 Last Train South, l-r: Mike Urso, Robby King, Paul Clayton, John Bredeau and Garth with an old club used to remove hobos from the train.
Tracks
Lean On Me
You Ain't Got Me
Don't Let The Blues Get To Know You
Cowboy Angel (3.8MB)
Pushin and Shovin
Don't Tell Me You Gotta Go
What's Your Name
Sweet Eyed Lady
Wheel Of Love
She Wants To Love Someone
Credits
Robby King: Songwriter, singer and acoustic guitar
Garth Hudson: Keyboards
Mike Urso: Bass, background vocals
John Bredeau: Drums, background vocals
Paul Clayton: Lead guitar
Maud Hudson: Background vocals
Dale Lambson: Producer
Last Train South - Last Train South - 1989 - Unreleased
---
[History] [Members] [Library] [Discography] [Videography] [Filmography] [Pictures] [Audio Files] [Video Clips] [Tape Archive] [Concerts] [Related Artists] [Merchandise] [Guestbook] [Chat Room] [Search] [What's New?] [Main Page]
Webmaster