Blackie & the Rodeo Kings: Let's Frolic Again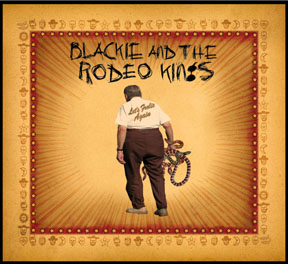 May 2007 album from Canadians Colin Linden, Tom Wilson and Stephen Fearing, aka Blackie and the Rodeo Kings, with musical friends Malcolm Burn, Garth Hudson and John Whynot. Also with Johnny Dymond on bass, Gary Craig on drums, Band guitarist Jim Weider, and Richard Bell, who played piano with The Band in the '90s and also appeared on the Rodeo Kings' 1996 album High or Hurtin.
This CD is part two of 2006' Juno nominated and critically acclaimed CD Let's Frolic. It is the result of the sessions that happened at the legendary Bearsville Studio outside Woodstock, NY. BARK were only there to record one CD, but everything went so well they recorded 29 songs and is the reason we have Lets Frolic Again.
Tracks
Better Off Alive
Old Hotel
Sometimes It Comes So Easy
Down By The Henry Moore
How Long
Something On My Mind
There's No One Like You After All
Old Slewfoot
Poison Girl
Take Cathy Dancing
Down To The Well
Don't Blame Your Blues On Me
Night's Back Bridge
Red Red Robin
Blackie & the Rodeo Kings - Let's Frolic Again - 2007 - True North 455
---
[History] [Members] [Library] [Discography] [Videography] [Filmography] [Pictures] [Audio Files] [Video Clips] [Tape Archive] [Concerts] [Related Artists] [Merchandise] [Guestbook] [Chat Room] [Search] [What's New?] [Main Page]
Webmaster