Levon Helm: Levon Helm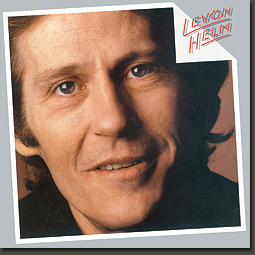 Levon Helm signed to the Muscle Shoals Sound's Capitol-affiliated label after the demise of ABC records. With Jimmy Johnson and Barry Becket at the controls, he cut his second eponymously titled album at the Muscle Shoals Alabama studio in 1981. Levon Helm was mostly a collection of covers ("Money", "Willie and the Hand Jive") and songs by various Southern writers.
Good critic reviews followed the release of the recording, and executives at Capitol expressed they liked the album. However, as record companies do many times, they chose not to promote it, and Levon Helm never entered the album charts.
The European pressing of this album also contained a version of "Summertime Blues", that was released as a Dutch 7" single with "Money" on the B-side.
Re-released on CD by Edsel Records in Europe in February 1998, and by Kejo Entertainment (along with Capitol Records) in the US in 2005. The US CD has remastered sound and includes "Summertime Blues" as a bonus track. Re-released again in Australia in 2011 as a 2-on-1 titled Take me to the River, paired with Levon Helm (1978), with "Summertime Blues" as bonus track.
Tracks
1.
You Can't Win 'Em All (Bown/Chapman)
(331K)
2.
Lucrecia (R. Supa)
(331K)
3.
Even A Fool Would Let Go (Snow/Chater)
(331K)
4.
I've Got a Bet with Myself (D. Elliot)
(331K)
5.
Money (M.L. Gordon)
(331K)
6.
Get Out Your Big Roll Daddy (Seals/Chapman)
(331K)
7.
Willie and the Hand Jive (J. Otis)
(331K)
8.
The Got Song (T. Talton)
(331K)
9.
Give a Little Bit (T. Talton)
(331K)
10.
God Bless 'Em All (M. Buckins)
(331K)

Bonus track on European LP and US 2005 CD:

11.
Summertime Blues
Sidemen
Ava Aldridge, backing vocal
Bonnie Bramlett, backing vocal
Barry Beckett, keyboards
Mickey Buckins, drums/percussion
Robert Byrne, backing vocal
Terry Cagle, backing vocal
Harrison Calloway, trumpet
Duncan Cameron, guitar
Pete Carr, guitar
Earl Cate, guitar
Earnie Cate, kyboards
Ben Cauley, trumpet
Mike Chapman
Dick Cooper, production ass.
Ronnie Eades, sax
Ron Eoff, backing vocal
Pete Greene, engineer
Owen Hale, drums/percussion
Greg Hamm, engineer
Robert Harwell, sax
Roger Hawkins, drums/percussion
Levon Helm, vocals/drums/percussion/mandolin
David Hood, bass
James Hooker
Jimmy Johnson, guitar/engineer
George Lair, production ass.
Lenny LeBlanc, backing vocal
Mac McAnally, backing vocal
Will McFarlane, backing vocal
Mary Beth McLemore, engineer
Steve Melton, engineer
Steve Nathan, keyboards
Wayne Perkins, guitar/backing vocals
Charles Rose, trombone
Jimmy "Doc" Simpson, clarinet
Russel Smith, backing vocals
Richie Supa, backing vocal
Harvey Thompson, sax
Levon Helm - Levon Helm - 1982 - Capitol ST-12201
Single sleeve LP
Compact Discs: Edsel 537712 (1998), Kejo Entertainment (2005)
2-on-1 CD Levon Helm (1978)/Levon Helm (1982), Take me to the River, Raven Records, 2011
---
[History] [Members] [Library] [Discography] [Videography] [Filmography] [Pictures] [Audio Files] [Video Clips] [Tape Archive] [Concerts] [Related Artists] [Merchandise] [Guestbook] [Chat Room] [Search] [What's New?] [Main Page]
Webmaster