Various Artists: Steve King & Johnnie Putman present "Life After Dark"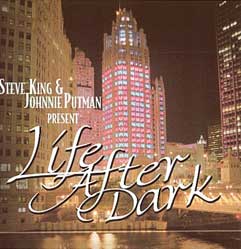 CD with various artists recorded live on Chicago's News & Talk Radio 720 WGN, at the Steve and Johnnie Show. Released in 2000.
Rick Danko with Professor Louie do a version of The Band's "Twilight", recorded in the fall of 1999 during a promotional tour for Ricky's Live in Breeze Hill album.
Other performers on the CD are Otis Clay, Brian Leighton, John Mueller, Robbie Fulks, Antje, Muriel Anderson, Bob Young with Steve King, Delbert McClinton, The Nelsons, BR5-49, Dolly Varden, Susan Tedeschi, Preston Reed, Carl Giammarese and Bob Abrams of the Buckinghams and Fred Eaglesmith.
Various Artists - Steve King & Johnnie Putman present "Life After Dark" - 2000 - Nation Records 631987 100829
---
[History] [Members] [Library] [Discography] [Videography] [Filmography] [Pictures] [Audio Files] [Video Clips] [Tape Archive] [Concerts] [Related Artists] [Merchandise] [Guestbook] [Chat Room] [Search] [What's New?] [Main Page]
Webmaster