Blond: The Lilac Years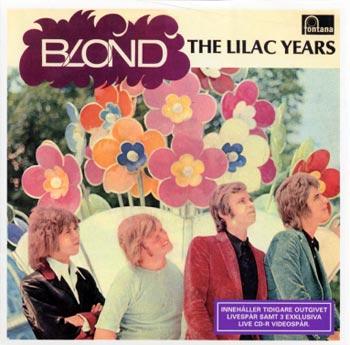 Blond grew out of the Swedish heroes Tages, who ruled Sweden's hit parade during their 1964-67 heyday and arguably was one the best Scandinavian rock groups in the 60's. 1969's Lilac Years, a failed attempt to reach the British music market, is their most psychedelic album featuring moody pop-psych melodies, great guitar works, weird effects and lush orchestration. Produced by Andy Henrickson (King Crimson, Quatermass, Life and Jericho).
The 2003 CD reissue of this LP adds several bonus tracks, among them a live cover of "The Weight", probably recorded at the studios of Swedish television channel STV. The reissue also includes a video CD-R with Blond performing "The Weight" on STV, that originally aired in Sweden on July 29, 1970.
Tracks
LP/CD
*: CD only
Deep Inside My Heart
Sailing Across The Ocean
Six White Horses
Time Is Mine
The Girl I Once Had
The Lilac Years
I Wake Up And Call
Sun In Her Hand
I Pick Up The Bus
There's A Man Standing In The Corner
I Will Bring You Flowers In The Morning
Caroline
Lost Child *
How Can I Pray When I Don't Even Believe *
Balladen Om Killen (Del 1) *
Balladen Om Killen (Del 2) *
The Weight (Live/Bonus) *
Video CD-R
The Weight
My Days Are Numbered
Caroline
Blond - The Lilac Years - 1969 - Fontana 881 015 TY
CD: Universal Music 0183352 (2003)
---
[History] [Members] [Library] [Discography] [Videography] [Filmography] [Pictures] [Audio Files] [Video Clips] [Tape Archive] [Concerts] [Related Artists] [Merchandise] [Guestbook] [Chat Room] [Search] [What's New?] [Main Page]
Webmaster