Mike Bloomfield and Al Kooper: The Live Adventures of Mike Bloomfield and Al Kooper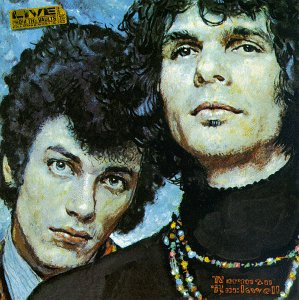 Guitarist Michael Bloomfield and organ player Al Kooper was part of Bob Dylan's backing band in 1965, playing together with Levon Helm and Robbie Robertson behind Dylan at a few concerts. They were also present on Dylan's Highway 61 Revisited sessions. Kooper later was involved with Paul Butterfield's Blues Band and Blood, Sweat & Tears, and guested on records by Dylan, Rolling Stones, Jimi Hendrix, and Lynyrd Skynyrd, which he kind of discovered and produced. Bloomfield, that died of drug abuse in 1981, is known for his work with Paul Butterfield and the group Electric Flag.
The Live Adventures of..., a follow-up to the successful 1968 jam album Super Session with Bloomfield, Kooper and Stephen Stills, was recorded over three nights in 1968 at the Fillmore Auditorium in San Francisco. It's a typical '60s live album, rather unfocused but notable for Bloomfield's singing debut. Includes a cover of "The Weight".
Tracks
Opening Speech - Mike Bloomfield
Opening Speech - Al Kooper
Sonny Boy Williamson
The 59th Street Bridge Song (Feelin' Groovy)
No More Lonely Nights
I Wonder Who
Dear Mr. Fantasy
Her Holy Modal Highness
Don't Throw Your Love On Me So Strong
Finale: Refugee
Mary Ann
Together 'Til The End Of Time
That's All Right
Green Onions
Mike Bloomfield and Al Kooper - The Live Adventures of Mike Bloomfield and Al Kooper - 1969 - Columbia CG-6
---
[History] [Members] [Library] [Discography] [Videography] [Filmography] [Pictures] [Audio Files] [Video Clips] [Tape Archive] [Concerts] [Related Artists] [Merchandise] [Guestbook] [Chat Room] [Search] [What's New?] [Main Page]
Webmaster