The Band: Live at the Academy of Music 1971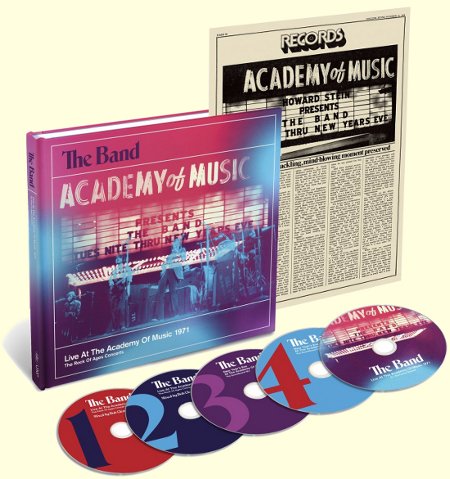 Five-disc deluxe box set celebrating The Band's 1972 live album Rock of Ages, issued in September 2013.
Rock Of Ages was originally a 2-LP set compiled from recordings made during The Band's series of shows in late December 1971, at the Academy of Music in New York City, where they were augmented by a five-man horn section, with arrangements by New Orleans legend Allen Toussaint.
Discs one and two are the Rock Of Ages concert across two CDs, newly mixed by Bob Clearmountain. A further two CDs are (mostly previously unissued) soundboard recordings of the fourth and final night of the Eve 1971. The fifth and final disc is a DVD with tracks from discs 1 and 2 in 5.1 surround, plus Alk and Lerners filmed performances of "King Harvest (Has Surely Come)" and "The W.S. Walcott Medicine Show."
There is also a 2-CD version of Live at the Academy Of Music 1971, containing discs 1 and 2 from the box set.
Tracks
Disc 1
The W.S. Walcott Medicine Show (Friday, December 31)
The Shape I'm In (Friday, December 31)
Caledonia Mission (Thursday, December 30)
Don't Do It (Wednesday, December 29)
Stage Fright (Friday, December 31)
I Shall Be Released (Thursday, December 30)
Up On Cripple Creek (Thursday, December 30)
This Wheel's On Fire (Wednesday, December 29)
Strawberry Wine (Tuesday, December 28) (Previously Unissued Performance)
King Harvest (Has Surely Come) (Friday, December 31)
Time To Kill (Tuesday, December 28)
The Night They Drove Old Dixie Down (Wednesday, December 29)
Across The Great Divide (Thursday, December 30)
Disc 2
Life Is A Carnival (Thursday, December 30)
Get Up Jake (Thursday, December 30)
Rag Mama Rag (Friday, December 31)
Unfaithful Servant (Friday, December 31)
The Weight (Thursday, December 30)
Rockin' Chair (Wednesday, December 29)
Smoke Signal (Tuesday, December 28)
The Rumor (Thursday, December 30)
The Genetic Method (Friday, December 31)
Chest Fever (Tuesday, December 28)
(I Don't Want To) Hang Up My Rock And Roll Shoes (Wednesday, December 29)
Loving You Is Sweeter Than Ever (Wednesday, December 29)
Down In The Flood (The Band with Bob Dylan) (Friday, December 31)
When I Paint My Masterpiece (The Band with Bob Dylan) (Friday, December 31)
Don't Ya Tell Henry (The Band with Bob Dylan) (Friday, December 31)
Like A Rolling Stone (The Band with Bob Dylan) (Friday, December 31)
Disc 3
Up On Cripple Creek (Previously Unissued Performance)
The Shape I'm In
The Rumor (Previously Unissued Performance)
Time To Kill (Previously Unissued Performance)
Rockin' Chair (Previously Unissued Performance)
This Wheel's On Fire (Previously Unissued Performance)
Get Up Jake (Previously Unissued Performance)
Smoke Signal (Previously Unissued Performance)
I Shall Be Released (Previously Unissued Performance)
The Weight (Previously Unissued Performance)
Stage Fright
Disc 4
Life Is A Carnival (Previously Unissued Performance)
King Harvest (Has Surely Come)
Caledonia Mission (Previously Unissued Performance)
The W.S. Walcott Medicine Show
The Night They Drove Old Dixie Down (Previously Unissued Performance)
Across The Great Divide (Previously Unissued Performance)
Unfaithful Servant
Don't Do It (Previously Unissued Performance)
The Genetic Method
Chest Fever (Previously Unissued Performance)
Rag Mama Rag
(I Don't Want To) Hang Up My Rock And Roll Shoes (Previously Unissued Performance)
Down In The Flood (with Bob Dylan)
When I Paint My Masterpiece (with Bob Dylan)
Don't Ya Tell Henry (with Bob Dylan)
Like A Rolling Stone (with Bob Dylan)
Disc 5
The W.S. Walcott Medicine Show (DVD)
The Shape I'm In (DVD)
Caledonia Mission (DVD)
Don't Do It (DVD)
Stage Fright (DVD)
I Shall Be Released (DVD)
Up On Cripple Creek (DVD)
The Wheel's On Fire (DVD)
Strawberry Wine (Previously Unissued Performance)(DVD)
King Harvest (Has Surely Come)(DVD)
Time To Kill (DVD)
The Night They Drove Old Dixie Down (DVD)
Across The Great Divide (DVD)
Life Is A Carnival (DVD)
Get Up Jake (DVD)
Rag Mama Rag (DVD)
Unfaithful Servant (DVD)
The Weight (DVD)
Rockin' Chair (DVD)
Smoke Signal (DVD)
The Rumor (DVD)
The Genetic Method (DVD)
Chest Fever (DVD)
(I Don't Want To) Hang Up My Rock And Roll Shoes (DVD)
Loving You Is Sweeter Than Ever (DVD)
King Harvest (Has Surely Come) (Previously Unissued Performance) (Archival Film Clips-December 30, 1971)(DVD)
The W.S. Walcott Medicine Show (Previously Unissued Performance) (Archival Film Clips-December 30, 1971)(DVD)
The Band - Live at the Academy Of Music 1971 - 2013 - Capitol Records (Universal)
---
[History] [Members] [Library] [Discography] [Videography] [Filmography] [Pictures] [Audio Files] [Video Clips] [Tape Archive] [Concerts] [Related Artists] [Merchandise] [Guestbook] [Chat Room] [Search] [What's New?] [Main Page]
Webmaster