Garth and Maud Hudson: LIVE at the WOLF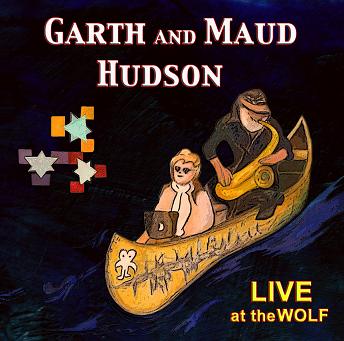 ---
Review by Dave Z.
---
Wow. This CD is eustatic!!!
The Saga of the snowy owl expeditions continues with Garth taking us on a canoe ride that is more sensitive to the touch of one's heart. And this time Garth's lovely wife Maud steps fully out of the shadows & mists to sing for us. Together they board their canoe for a little paddle back to where the river forks at Garth's hometown of London, Ontario. This is a 'Duo' album resulting from a magical show that took place on the evening of September 8, 2002. It was their first duo live concert together for the world -- just them two. This album also celebrates their 25th wedding anniversary. Thanks for sharing your love and hard work Maud & Garth!!!
To me LIVE at the WOLF feels like the distilled 'pure' stuff from what was in its entirety a show 'heavy' in musical entertainment stock (I myself drove 15 hours just to be there). Do you remember that TV episode from Northern Exposure where barefooted cook Adam creates just 1 cup of masterful demi-glace Au Jus from about 40 cows for Maurice Minnefield's Big Feast'!'! Well, this album is kind of like that except, let me tell you, all the cows were jumping over the moon that night in London. There were jokes & stories of international flavor, accordian and sax delights. A bit of smooching. Some serious cap tossing, piano chair on wheels sliding, behind the curtain Old Lang Syne mindblowing, and people having to stand up in the front row to witness. Yes, there was some serious unlit gigantic on-stage candelabra abracadabra going on!!! For sure.
There are four new original compositions you need to take note of. The first is Track 6 "You'll Be Thinkin'" written by Maud. Before starting to play, Garth rather abruptly lunged & wheeled a good 5 feet in his piano chair over to where Maud was. She then gave him a peck. And he shook his leg in fun. Then they both shook us with their playing and singing. The other three original compositions are amazing solo piano pieces penned by Garth himself. Some beautiful playing.
The Band covers with the orchestra style playing and Maud's beautifully unique voice out front are anything but 'not unexpected' & obligatory. Their version of "The Weight" will blow you away. And before starting to play "It Makes No Difference," Garth dedicates the performance to a soldier on the stage and the bus, Rick Danko. Everything sounds so full.
My favorite tracks are an emotional & timeless cover of "Willow Weep For Me," which is way better than a cool Stan Kenton version I've heard. I also love their cover of Dylan's "Blind Willie McTell," which has a hauntingly unique pace & feel with Maud wailing & whispering a blues secret or two like the wind which is her husband reveling about on piano. If I close my eyes I can almost imagine them dream-resting in their canoe inside a river cave with ancient wolf petroglyphs on the walls, in a place where that candelabra was definitely lit.
Ahwooo!!! The pack calls me but before I go, one last growl. The Studio Bonus track, "Little Island Blues," closes things out and begs for comparison to a similarly named track off of Garth's first solo album, The Sea To The North. I seem to recall that trickster Garth may have said in an interview somewhere that the music of "Little Island" had a phantom melody. When I listen to this new track I kind of hear Miles Davis at 38 to 43 seconds into it. Whew, that hurts my brain -- better stop now. There are some other wonderful tracks too but I'll leave off here and let you go explore the music for yourself. Enjoy. And sorry there are no photos with this review but my camera somehow stayed on my lap the whole time I was being mesmerized.
It was like Garth was taking a music test in front of God. Totally eustatic!!!
---
[History] [Members] [Library] [Discography] [Videography] [Filmography] [Pictures] [Audio Files] [Video Clips] [Tape Archive] [Concerts] [Related Artists] [Merchandise] [Guestbook] [Chat Room] [Search] [What's New?] [Main Page]
Webmaster