Various Artists: Live from the Bardavon, Volume 1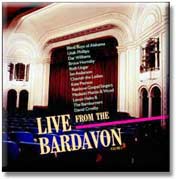 Collection of 12 live performances recorded at the historic Bardavon Opera House in Poughkeepsie, NY, between 1999 and 2003. All the artists participated in choosing the songs and donated their chosen cuts to help the theatre's fund raising efforts.
An early formation of Levon Helm & The Barnburners contributes a version of Charles Sheffield's "Got Your Voodoo Working," recorded at March 13, 1999. The Barn Burners' line-up was Levon Helm (drums), Jimmy Vivino (guitar & vocals), Jim Weider (guitar), Randy Ciarlante (drums & vocals) and Mike Dunn (bass).
Tracks
Blind Boys of Alabama - 4/27/01 - Nobody's Fault
Utah Phillips - 12/16/00 - Railroading On The Great Divide
Dar Williams - 12/11/99 - February
Bruce Hornsby - 11/9/02 - Rainbow's Cadillac/ Wrap Your Troubles in Dreams
Cherish the Ladies - 3/15/02 - Waves of Kilkee
Ruth Ungar - 12/16/00 - I'm So Lonesome I Could Cry
Ian Anderson - 10/20/02 - Locomotive Breath
Kate Pierson - 12/14/01 - River
Rainbow Gospel Singers - 4/27/01 - He'll Take You There
Medeski Martin & Wood - 10/26/02 - Bemsha Swing/ Lively Up Yourself
Levon Helm & The Barnburners - 3/13/99 - Got Your Voodoo Working
David Crosby - 3/15/03 - Almost Cut My Hair
Various Artists - Live from the Bardavon, Volume 1 - 2004
---
[History] [Members] [Library] [Discography] [Videography] [Filmography] [Pictures] [Audio Files] [Video Clips] [Tape Archive] [Concerts] [Related Artists] [Merchandise] [Guestbook] [Chat Room] [Search] [What's New?] [Main Page]
Webmaster