Nina Violet: Lose Strife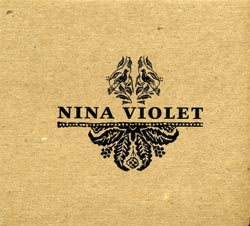 Nina Violet's Lose Strife is the first release from Grandma's Basement, the new music label of Island-born singer/songwriter Willy Mason.
Lose Strife is an ambitious and earnest album, evidenced by its opening track, "Bruise." It is a love song of sorts in which Ms. Violet's plaintive vocals rise above her ambient guitar work, creating a contrast that manages to convey longing. Nina Violet
The album contains vast instrumentation - strings, synthesizers, organs, harpsichord, sitar, melatron, and electric guitars. Despite this collection of instruments, its tone is both personal and tasteful - no small feat. It is also a testament to Ms. Violet's skill as a self-produced artist.
The album's very present sound owes much to the thoughtful ear of sound engineer Matthew Cullen, who has worked with artists such as My Morning Jacket, Antony and The Johnsons, and Evan Dando, among others. This recording also features the genius of Garth Hudson (on accordion on "Burn The Bridge"), a former member of The Band.
All in all, this is a standout work that uses talent and feeling like a razor to cut through the void of false sentimentality and overproduction that plagues much of today's folk and rock music.
--Colin Ruel, The Martha's Vineyard Times, May 2008
Tracks
Better Than to Bruise You
Way Down Washing Dirty Dishes
Burn the Bridge
Some Day We'll Be Alive
Yellow Flash
Kiss That Blade
Slow Me Down
My Brother
Tiny Seeds
When You Leave Your Body Home
Burn the Bridge
Cayuse
Nina Vieolet - Lose Strife - 2008 - Grandma's Basement
---
[History] [Members] [Library] [Discography] [Videography] [Filmography] [Pictures] [Audio Files] [Video Clips] [Tape Archive] [Concerts] [Related Artists] [Merchandise] [Guestbook] [Chat Room] [Search] [What's New?] [Main Page]
Webmaster