Various Artists: The Lost Notebooks of Hank Williams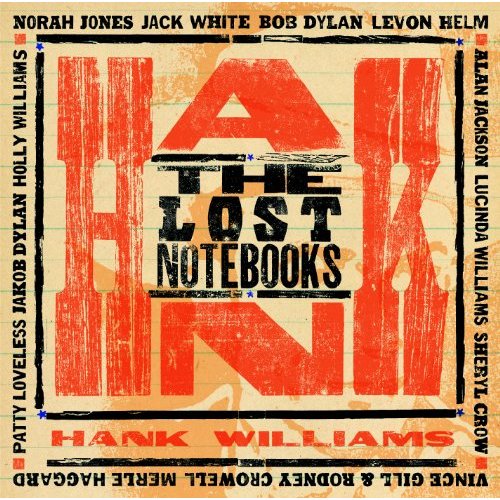 The October 2011 release The Lost Notebooks of Hank Williams is a collection of previously unheard songs by the country great, recorded by artists such as Bob Dylan, Jack White, Norah Jones and Levon Helm, The set, issued on Dylan's imprint Egyptian Records, was originally conceived by veteran A&R executive Mary Martin as a Dylan-centric project, but eventually evolved into a multi-artist tribute to the late singer-songwriter.
The songs featured in the set were rescued from notebooks left behind in a leather briefcase by Williams after he died in 1953 at the age of 29. The notes contained lyrics and song ideas that were finished by the 13 artists who contributed to the disc. The full story of Williams' notebooks is told in the album's liner notes, which were penned by Michael McCall of the Country Music Hall of Fame and Museum.
Tracks
You've Been Lonesome, Too - Alan Jackson
The Love That Faded - Bob Dylan
How Many Times Have You Broken My Heart? - Norah Jones
You Know That I Know Jack White
I'm So Happy I Found You - Lucinda Williams
I Hope You Shed a Million Tears - Vince Gill and Rodney Crowell
You're Through Fooling Me - Patty Loveless
You'll Never Again Be Mine - Levon Helm
Blue Is My Heart - Holly Williams
Oh, Mama, Come Home - Jakob Dylan
Angel Mine - Sheryl Crow
The Sermon on the Mount - Merle Haggard
Various Artists - The Lost Notebooks of Hank Williams - 2011 - Egyptian Records
---
[History] [Members] [Library] [Discography] [Videography] [Filmography] [Pictures] [Audio Files] [Video Clips] [Tape Archive] [Concerts] [Related Artists] [Merchandise] [Guestbook] [Chat Room] [Search] [What's New?] [Main Page]
Webmaster