John Hall: Love Doesn't Ask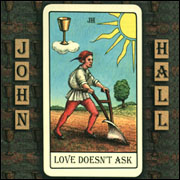 Released in August 1999, Love Doesn't Ask is the first John Hall record of new songs in the US since 1983's Searchparty. With acoustic rhythm guitar on every song, and John's trademark strat lead on top, surrounded by the magical rhythm section work of Peter O'Brien, Jon Ossman and Joakim Lartey, it straddles the border between folk and funk. Backup vocals are by Debbie Lan, Marianne Osiel, Jon Ossman and Tim Lawless. The acoustic flavor of the record provides the perfect backdrop for these songs, which are sometimes introspective, often philosophical, but never heavy-handed. With the exception of a few intermittent sociopolitical references (on "Calcutta", for instance, which laments the decay of New York City), Love Doesn't Ask is a highly personal, emotionally charged record. "These songs," says Hall, "are about relationships of all kinds."
From the opening notes of the title track, the clever hooks and catchy melodies that have rendered Hall's songs some of the most recognizable tunes of the pop/rock era are ever-present. An all-star lineup of rock & roll greats, including Robbie Dupree, John Sebastian and Rick Danko, Garth Hudson and Jimmy Weider of The Band, is also featured. As always with John Hall's work, though, it is the songs that take center stage. Love Doesn't Ask runs the gamut from funk-blues rockers ("Only Got Today", Rick Danko on harmony vocals) to touching reveries ("Home", with Jay Ungar on fiddle, "Quiet Place", with John Sebastian on harmonica) to pensive ballads ("I'll Do My Days" penned by Tad Wise) to poignant tributes ("October Child"). The cover features a tarot-style card designed by friend, artist and art teacher F. Tor Gudmundsen. Photos throughout are by Woodstock legend Elliott Landy. Graphic design and layout by Kate Boyer.
Produced by John Hall, recorded by Neil Davidson and J.H., and mixed by Tom Mark at Paradise Way, Saugerties, NY, March - June 1999
-- from Siren Songs Records' press release
Danko sings and Jim Weider plays on "Only Got Today." Garth plays keys on "Circle."
Tracks
Love Doesn't Ask
Usurper
Only Got Today
Calcutta
Home
Circle
Don't Go There
I'll Do My Days
Litany
Moving Target
Can't Take It With You
Quiet Place
October Child
Sidemen
John Hall - vocals, electric & accoustic guitars, bass, keyboards, back-up vocals
Peter O'Brien - drums
John Ossman - bass, back-up vocals on track 1, 5, 7
Joakim Lartey - percussion
Rick Danko - back-up vocals 0n track 3
Jim Weider - lead guitar (Telecaster) on track 3
Garth Hudson - keyboards on track 6
John Sebastian - harmonica on track 12
Robbie Dupree - harmonica on track 1
Debbie Lan - back-up vocals on track 1, 5, 6, 7, 9, 13, spoken lines on track 4
Marianne Osiel - back-up vocals on track 2, 6, 8, 9, 10, 11, 13
Tim Lawless - back-up vocals on track 2, 8, 9, 10, 11, 13
John Wieczorek - tabla on track 4
Jay Unger - fiddle on track 5
John Hall - Love Does Not Ask - 1999 - Siren Songs Records 001203
---
[History] [Members] [Library] [Discography] [Videography] [Filmography] [Pictures] [Audio Files] [Video Clips] [Tape Archive] [Concerts] [Related Artists] [Merchandise] [Guestbook] [Chat Room] [Search] [What's New?] [Main Page]
Webmaster