Letterbomb: Love (Sic)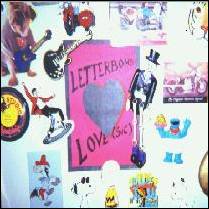 The Chicago-based band Letterbomb ("Chicago's coolest rock & roll band", according to their enthusiastic home page) with members Juan Castaneda (bass / vocals), Phil Pecucci (drums), Mike Pecucci (vocals / guitar) and Dan Bellus (guitars), released their second CD Love (Sic) in 1998 (label unknown). The album includes a very Ramones-inspired version of The Band's "The Weight". Not for sensitive ears, but quite refreshing. Full MP3-versions of all songs on Love (Sic) are availabe from their home page.
Tracks
Way
Like I Know You
They Eat Their Own
Ranco Mirage
Mystic Marie
Che
Pop World
Kid Forever
The Weight (3.8 MB)
Narcolepsy
New Girlfriend
Time to Change
Letterbomb - Love (Sic) - 1998 - ?
---
[History] [Members] [Library] [Discography] [Videography] [Filmography] [Pictures] [Audio Files] [Video Clips] [Tape Archive] [Concerts] [Related Artists] [Merchandise] [Guestbook] [Chat Room] [Search] [What's New?] [Main Page]
Webmaster