Artie Traum: Meetings with Remarkable Friends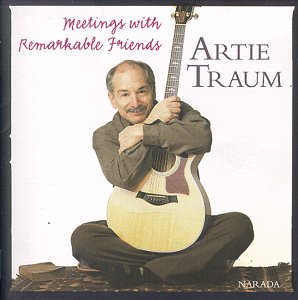 Guitarist and folk musician Artie Traum has, together with his brother Happy Traum, been in the Band's Woodstock "family" since the mid '60s. He fuses folk, country, and jazz on this 1999 album of instrumentals, that features appearances of friends like The Band, Adrian Belew, Warren Bernhardt, Sam Bush, Josh Colow, Bela Fleck, David Grisman, Laurence Juber, Joachim Lartey, Tony Levin, Molly Mason, Leslie Ritter, John Sebastian, and Jay Ungar.
The track accompanied by The Band, "Yankee Swamp," is maybe the best track on this collection, With Garth, Levon, Rick and Jim Weider (on dobro), Artie Traum adds a great lead guitar in the style of the late guitar genius Danny Gatton. Garth almost steals the show on organ a couple of times.
Tracks
Long Journey
Golden Gate Fog
Fourteen Turtles
Swing Shift
Butternut
Mondello
Catskill Thunder
Safety In Numbers
Serpa
Mean Low Water
Yankee Swamp
Early Frost
Artie Traum - Meetings with Remarkable Friends - 1999 - Narada 46957
---
[History] [Members] [Library] [Discography] [Videography] [Filmography] [Pictures] [Audio Files] [Video Clips] [Tape Archive] [Concerts] [Related Artists] [Merchandise] [Guestbook] [Chat Room] [Search] [What's New?] [Main Page]
Webmaster