Eric Andersen: Memory of the Future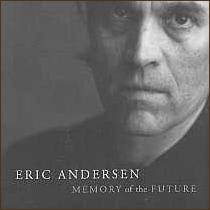 "I see the light fall through the leaves / it takes its leave of you and me / time takes all that we forget to keep / the future holds a grain of truth / scorns the past as slaves of youth / but future cannot form one memory..." from "Foghorn" by Eric Andersen
In Eric Andersen's new album, Memory of the Future (Appleseed Recordings 1028), memories from the past blur into the present, as the singer stares into the future. Memories like dreams & regrets, longings & emotions, haunt our experience. Such are the seeds to Andersen's songs, and he has become a true craftsman in bringing them to fruition.
His new album presents ten original songs and a haunting cover of Phil Ochs' "When I'm Gone." Just over an hour of brilliant music, wonderfully recorded and played with care. Rick Danko sings backup on two songs & plays bass on one. Garth plays accordian & adds a great tenor sax solo on the aforementioned "When I'm Gone." Richard Thompson adds his trademark sinewy electric guitar on a couple of songs. Andersen's daughter Sari and Eleanor Mills sing beautiful harmonies. Howie Epstein of Tom Petty's band handles bass, guitar & production chores, with fellow Petty bandmate Benmont Tench on keyboards. Current Dylan bassist Tony Garnier also plays on several songs. In addition to helping out with production, Jonas Fjeld plays guitar & keyboards, including a chilling, amplified baritone guitar on the song "Rain Falls Down In Amsterdam."
Part wandering troubadour, part beat poet, Andersen has refined his songwriting into a fine art. I can think of no better album to begin the new year with; perfect listening for a cold winter night. The songs will warm the soul like aged hardwood burning in the hearth. In an age of materialism & detachment, Eric Andersen reminds us of our hearts & conscience with a true spirit of wonder.
"There's an isle of dreams and romance to be everything you can / unending pure excitement where hope it never ends / let's talk about a country that's out in cyberspace / a future somewhere in the mind that now exists without a place / where feelings live forever communication is not blind / and no information that the news distorts can ever make the meaning lie." from "No-Man's Land" by Eric Andersen and Robert Aaron
-- review by David Powell
Tracks

Sudden Love (Eric Andersen)
Foghorn (Eric Andersen)
Rick Danko & Sari Andersen - backup vocals
Rain Falls Down in Amsterdam (Eric Andersen)
Blue Heart (Eric Andersen)
Garth Hudson - accordion
Goin' Gone (Eric Andersen)
Memory of the Future (Eric Andersen / Robert Aaron)
Sex With You (Eric Andersen)
Rick Danko - bass, backup vocal
Chinatown (Eric Andersen)
No Man's Land (Eric Andersen / Robert Aaron)
When I'm Gone (Phil Ochs)
Garth Hudson - accordion, tenor sax
Hills of Tuscany (Eric Andersen)

Eric Andersen - Memory of the Future - 1998 - Appleseed Records 1028
---
[History] [Members] [Library] [Discography] [Videography] [Filmography] [Pictures] [Audio Files] [Video Clips] [Tape Archive] [Concerts] [Related Artists] [Merchandise] [Guestbook] [Chat Room] [Search] [What's New?] [Main Page]
Webmaster