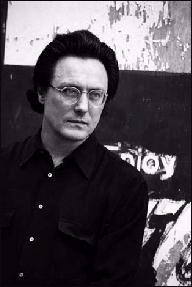 Lowry Hamner, 1998
Lowry Hamner Artist Profile
(copied from Alien Chants Records)

A Mississippi native, Lowry Hamner writes and performs original and traditional music in the "Americana" genre, the crossroads where the southern musical forms of blues, country, rock, and folk meet. Hamner's musical journey is deeply rooted in the Mississippi music scene past and present, in a career of powerful promise and recognition. He recorded sessions for Sam Phillips, of Elvis Presley fame, and Ray Harris, of Hi Records in Memphis. Phillips once told Hamner, "You don't sing like Elvis, but you're the best songwriter I've heard in ten years."

It was in the vibrant Meridian, Mississippi music scene, among such compatriots as Steve Forbert, Chris Ethridge and Paul Davis that Hamner founded the band, The Cryers. After completing demos with Kyle Lehning, who later produced Randy Travis, opportunities as a solo artist opened up for Hamner, but his commitment to The Cryers instead motivated a move to New York City's East Village.

Playing such legendary New York clubs as CBGB's and Max's Kansas City led to Hamner and The Cryers being signed to Mercury Records by Steve Katz of Blood, Sweat and Tears, and The Blues Project fame, where they recorded two highly praised albums.

Hamner recently returned to professional performing with appearances at the Towne Crier Cafe; in Pawling, New York, and the Schoolhouse in Croton Falls, New York. This comeback was underscored by Columbia recording artist Willie Nile who included one of Hamner's songs on his record "Places I Have Never Been." Hamner's 1979 song "Shake It Up" was re-released as the title track on a 1993 Rhino compilation.

On his 1998 solo album Secrets of the Heart, Hamner works with a dynamic group of New York area musicians including Jon Sholle, formerly a member of the David Grisman Quartet, and Carey Brown, who played with The Skatellites and currently plays with the Sloan Wainwright band. With the release of this first solo work on his own label, Alien Chants Records, Hamner is establishing a body of work that encompasses some of his most powerful and mature compositions to date.