Ronnie Hawkins and the Hawks: Mr. Dynamo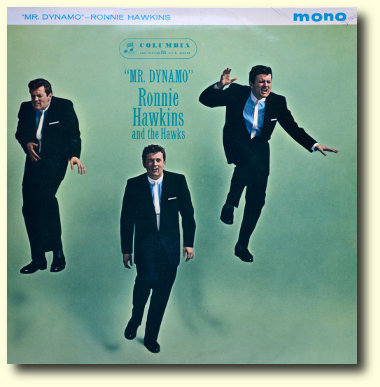 [UK LP cover] [UK Back cover]

The Mr. Dynamo album, completed in early November 1959 and released in January 1960, marked Telecaster virtuoso Fred Carter's impressive recording debut as a Hawk. Alongside Robertson's songs (and version of Carl Perkins' "Honey Don't" and Fats Domino's "Sick and Tired"), there were four tracks co-authored by Levon Helm. Robbie was at this point not yet a member of the Hawks, but kept trying to convince Hawkins to take him into the band. The album was not very successful, falling into the limbo area between the demise of rockabilly and the dawn of teen-dream pop.

Levon Helm is on drums on Mr. Dynamo, the other musicians are Luke Paulman on rhythm guitar, Jimmy Evans on bass and Will "Pop" Jones on the keyboard.

Some of the song-writing credits on Mr. Dynamo are just a result of Roulette Records' ways of doing business in this period. E.g. the track "You Cheated (You Lied)" was actually written by Don Burch, and had been a US# 12 hit for The Shields in the fall of 1958. The songs "Hayride" and "Baby Jean" are probably Hawks compositions, though. They appear as slightly different takes on The Roulette Years, suggesting that they were originals that hadn't been finished yet, rather than covers adapted by the Hawks. Even if Ronnie Hawkins respected Robbie's songwriting skills enough to take him to the Brill Building later, Robertson may not have written the songs he was co-credited for on this album either. See Peter Viney and Bill Munson's comments on song credits on Mr. Dynamo for more.
Tracks
1.
Clara (Hawkins)
2.
Hey Boba Lou (Hawkins/Magill/Robertson)
3.
Someone Like You (Hawkins/Magill/Robertson)
4.
Dreams Do Come True (Hawkins/Magill)
5.
Hay Ride (Hawkins/Magill/Helm)
6.
Honey Don't (Perkins)
7.
Lonely Hours (Hawkins/Felts)
8.
Sick and Tired (Kenner/Bartholomew/Domino)
9.
Love Me Like You Can (Hawkins/Magill)
10.
You Cheated [You Lied] (Helm)
11.
Baby Jean (Hawkins/Magill/Helm)
(239K)
12.
Southern Love (Hawkins/Magill/Helm)
Sidemen
Ronnie Hawkins, vocal
Fred Carter Jr., guitar
James G. "Jimmie" Evans, bass
Levon Helm, drums
Willard "Pop" Jones, keyboard
Jimmy Ray "Luke" Paulman, guitar
Ronnie Hawkins and the Hawks: Mr. Dynamo - 1/1960 - Roulette SR-25102
Also available available on a two CD set paired with Ronnie Hawkins Sings Hank Williams, TNT Laser 25102/25137, 1992

AMG Rating: Good
---
[History] [Members] [Library] [Discography] [Videography] [Filmography] [Pictures] [Audio Files] [Video Clips] [Tape Archive] [Concerts] [Related Artists] [Merchandise] [Guestbook] [Chat Room] [Search] [What's New?] [Main Page]
Webmaster