Muddy Waters: The Muddy Waters Woodstock Album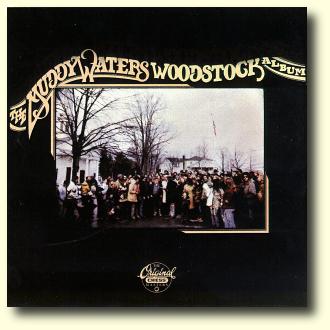 Recorded in 1975, The Muddy Waters Woodstock Album was the brainchild of the Band's Levon Helm and producer/songwriter Henry Glover. At the time, the duo's production company, RCO, had recently set up shop in a barn-turned- studio in Woodstock, New York, and Muddy Waters was their first client. The album, born of a unique merger of top-flight talent (Waters' touring band plus the cream of the musicians then living in and around Woodstock), is one of the loosest, swingingest records that Waters ever cut, and features such musicians as blues-harp great Paul Butterfield, Helm and Garth Hudson (of the Band), guitarist Bob Margolin and keyboardist Willie "Pinetop" Perkins (from Waters' band), and renowned session players Fred Carter and Howard Johnson.
The Muddy Waters Woodstock Album includes five original songs written by Waters ("Going Down to Main Street," "Born With Nothing," "Funny Sounds," "Love, Deep as the Ocean" and the previously unreleased CD-only bonus track, Fox Squirrel) plus covers of Louis Jordan's "Let the Good Times Roll" and Caldonia, Bobby Charles' "Why Are People Like That" and Leiber & Stoller's Kansas City. As chronicled in the newly penned liner notes by Billboard's Chris Morris, the disc proved to be the last that Waters would record for Chess. It was, however, a memorable farewell - The Muddy Waters Woodstock Album was awarded the 1975 Grammy Award for Best Ethnic or Traditional Recording.
Tracks
1.
Why Are People Like That
(B.Charles)
2.
Going Down to Main Street
(Waters)
3.
Born With Nothing
(Waters)
4.
Caldonia
(Moore)
(280K)
5.
Funny Sounds
(Waters)
6.
Love, Deep as the Ocean
(Waters)
7.
Let the Good Times Roll
(Theard/Moore/Fleetwood)
8.
Kansas City
(Leiber/Stoller)
(250K)
9.
Fox Squirrel*
(Waters)*: CD bonus track
(288K)
Sidemen
Paul Butterfield, harmonica
Henry Glover, producer
Levon Helm, bass/drums/producer
Garth Hudson, accordion/keyboards/saxophone
Howard Johnson, saxophone
Sammy Lawhorn, guitar
Bob Margolin, guitar
"Pinetop" Perkins, piano
Muddy Waters, vocal/guitar
Muddy Waters - The Muddy Waters Woodstock Album - 1975 - Chess CH 60035
Compact Disc: UNI/MCA 9359 (1995)
AMG Rating: 5 (out of 9)
---
[History] [Members] [Library] [Discography] [Videography] [Filmography] [Pictures] [Audio Files] [Video Clips] [Tape Archive] [Concerts] [Related Artists] [Merchandise] [Guestbook] [Chat Room] [Search] [What's New?] [Main Page]
Webmaster