Kathy McCord: New Jersey To Woodstock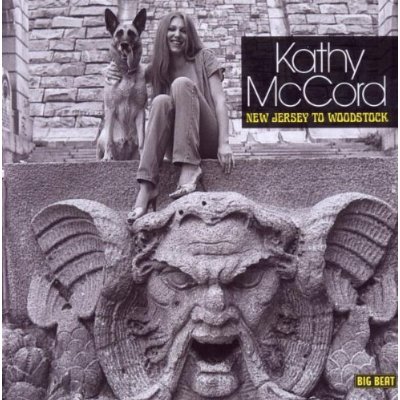 Kathy McCord's lone, self-titled, 1969 album for CTI Records has long been a cult folk-psych classic, rated highly by all those who enjoy artists such as Nick Drake, Vashti Bunyan and their ilk. Its cult status has been boosted by its incredible scarcity - a true holy grail in collector circles, if ever there was one.
Aside from its original vinyl issue, the only other time it's been available in 40 years was via an almost impossible to find, limited Japanese CD that is, if anything, harder to find than the original album now.
Ace is delighted, via Big Beat, to reinstate this wonderful music to catalogue and to bring it to what is potentially its biggest-ever audience. The 2CD set also includes both sides of a rare, pre-CTI single and nearly 20 demos that Kathy cut in Woodstock during the 1970s. On these she is backed by luminaries that include the Fabulous Rhinestones, Paul Butterfield and Rick Danko and Levon Helm of The Band. All are from Kathy's own collection, and none has ever been released commercially prior to this CD.
Assembled with the full co-operation of Kathy and her brother, the equally-celebrated Billy Vera (both of whom contribute sleeve notes), New Jersey To Woodstock is a musical journey very much worth taking.
-- Editorial review, amazon.com
Tracks
Disc 1
Rainbow Ride
I'm Leaving Home (She's Leaving Home)
Candle Waxing
Baby James
The Love Flow
New York Good Sugar/Love Lyric #7
For You, Child
Jennipher
Take Away This Pain (Demo)
Velvet Smile (Demo)
I'll Give My Heart To You (1968 Single)
I'll Never Be Alone Again (1968 Single)
Disc 2
(all tracks previously unissued)
New Horizons
Acapulco
Baby, Come Out Tonight
That's A Love That's Real
No Need To Wait
I'll Be Lovin' You Forever
Magnolia
Madman
Captain Cody Memorial
Keep Peace In The Family
You'd Convince The Devil
Who's Been Coolin' You?
Don't Go Talkin' To Strangers
Every Little Thing You Do
I Wanna Know Why
Shine On
Kathy McCord - New Jersey To Woodstock - 2010 - Big Beat Records CDWIK2 28
---
[History] [Members] [Library] [Discography] [Videography] [Filmography] [Pictures] [Audio Files] [Video Clips] [Tape Archive] [Concerts] [Related Artists] [Merchandise] [Guestbook] [Chat Room] [Search] [What's New?] [Main Page]
Webmaster