Soundtrack Album: New York Stories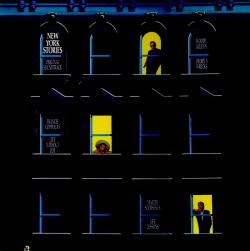 [LP cover] [Back cover]
Original soundtrack album from the 1989 movie New York Stories, about three stories happening in New York. The story titled Life Lessons, directed by Martin Scorsese, is about a painter who falls in love with his models. The fantasy story Life without Zoe from Francis Coppola is about a little rich girl who tries to reconciliate her parents, and the third story, Oedipus Wrecks is a Woody Allen comedy about a jew who cannot get rid of his mother, even after her death.
A Tour 74 version of "Like A Rolling Stone" with Bob Dylan and The Band, probably the same as on Before the Flood, can be heard in the Martin Scorsese segment.
Tracks
Francis Coppola's Life without Zoe:
People Will Talk
Written by August Darnell, performed by Kid Creole and the Coconuts.
Back to School
Written by Alex Garvin, performed by Pianosaurus.
Twinkle Twinkle
Variations on the original folk tune, conducted by Carmine Coppola
Zoe
Written by August Darnell, performed by Kid Creole and the Coconuts.

Woody Allen's Oedipus Wrecks:

I Want a Girl (Just Like the Girl That Married Dear Old Dad)
Written by William Dillon and Harry von Tilzer, performed by Frankie Carle and Bernie Leighton.
In a Persian Market
Written by Albert Ketelbey, performed by Wilbur de Paris.
All the Things You Are
Written by Jerome Kern and Oscar Hammerstein II, performed by David Rose and his orchestra and Bernie Leighton.
I've Found a New Baby
Written by Jack Palmer and Spencer Williams, performed by Wilbur de Paris.

Martin Scorsese's Life Lessons:

A Whiter Shade of Pale
By Keith Reid,Gary Broker, performed by Procul Harum.
Sex Kick
By Nick Christian Sayer, performed by Transvision Vamp.
What Is This Thing Called Love
By Cole Porter.
Like a Rolling Stone
By Bob Dylan, performed by Bob Dylan & The Band.
Soundtrack Album - New York Stories - 1989 - Elektra Musician 60857-1
---
[History] [Members] [Library] [Discography] [Videography] [Filmography] [Pictures] [Audio Files] [Video Clips] [Tape Archive] [Concerts] [Related Artists] [Merchandise] [Guestbook] [Chat Room] [Search] [What's New?] [Main Page]
Webmaster