John Martyn: No Little Boy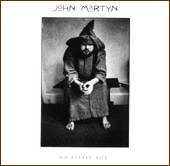 Unsatisfied with the release of his previous album Couldn't Love You More, Scottish folk singer Martyn called in producer Jim Tullio to redo the Couldn't Love You More-tapes. Some songs were slightly remixed to bring more character to the songs (eg. "Sweet Little Mystery") but most songs were completely overhauled. Some of the Couldn't Love You More-tracks were deleted and four songs were newly recorded: "I Don't Wanna Know", "Sunday's Child" and Bless The Weather" featuring John Giblin on bass, and an excellent new version of "Just Now" featuring Levon Helm on harmony vocals. Levon also guested on Martyn's 1970 album Stormbringer!.
There are two different releases of No Little Boy, one on the Mesa label and one UK-only release on Permanent Records. The Permanent CD has three extra tracks, one of them is the song "Rock, Salt and Nails" where Levon Helm and John Martyn take turns singing lead vocal. This track is also available on the John Martyn compilations Couldn't Love You More / No Little Boy (1998) and Classics (2002).
Tracks
*: Track missing on the Mesa release
Solid Air (J. Martyn)
Ways to Cry (J. Martyn)
Could've Been Me (J. Martyn)
I Don't Wanna Know (J. Martyn)
Just Now (J. Martyn)
One Day Without You (J. Martyn)
Sweet Little Mystery (J. Martyn)
* Pascanel (J. Martyn)
Sunday's Child (J. Martyn)
Head and Heart (J. Martyn)
Fine Lines (J. Martyn)
Bless the Weather (J. Martyn)
Man in the Station (J. Martyn)
One World (J. Martyn)
* Rock, Salt and Nails (Utah Phillips)
* Hole in the Rain (J. Martyn)
Sidemen
(only members of The Band listed)
Levon Helm, backing vocal
John Martyn - No Little Boy - 1993 - Mesa Records R2 79057, Permanent Records PERM CD14
---
[History] [Members] [Library] [Discography] [Videography] [Filmography] [Pictures] [Audio Files] [Video Clips] [Tape Archive] [Concerts] [Related Artists] [Merchandise] [Guestbook] [Chat Room] [Search] [What's New?] [Main Page]
Webmaster