Various Artists:
Nobody's Child - Romanian Angel Appeal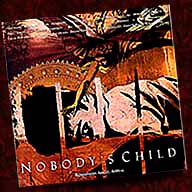 A charity project to help the children of Romania after the breakdown of the Ceaucescu "empire". An interesting release for Band fans, because Levon Helm and Robbie Robertson here can be heard on the same record for the first time(?) since the break-up of the Band. Levon and Rick perform with the Ringo Starr All-Starr Band on track 15, Robertson can be heard on another of the songs. Bob Dylan is also present on this album, as a member of the Traveling Wilburys.
If you want to support the work for Romania's forgotten children, check out the webpage for The Romanian Angel Appeal.
Tracks
Nobody's Child (Traveling Wilburys)
Wonderful Remark (Van Morrison)
Medicine Man (Elton John)
This Week (Dave Stewart and the Spiritual Cowboys)
Homeward Bound (Paul Simon and George Harrison)
How Can You Mend a Broken Heart (Bee Gees)
Lovechild (Billy Idol)
Big Day Little Boat (Eddie Brickell and New Bohemians)
Feeding off the Love of the Land (Stevie Wonder)
That Kind of Woman (Eric Clapton)
Goodnight Little One (Ric Ocasek)
The Trembler (Duane Eddy)
Ain't That Peculiar (Mike and the Mechanics)
Civil War (Guns n'Roses)
With a Little Help from My Friends (Ringo Starr and His All-Starr Band)
Sidemen
(only members of the Band listed)
Rick Danko
Levon Helm
Robbie Robertson
Various Artists - Nobody's Child - Romanian Angel Appeal - 1990 - Warner Bros. 7599-26280-2
---
[History] [Members] [Library] [Discography] [Videography] [Filmography] [Pictures] [Audio Files] [Video Clips] [Tape Archive] [Concerts] [Related Artists] [Merchandise] [Guestbook] [Chat Room] [Search] [What's New?] [Main Page]
Webmaster