Various Artists: Northern Songs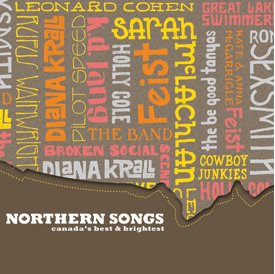 2008 various-artists album from Starbucks' Hear Music label, with a varied selection of major Canadian acts. Track four is The Band's original version of "The Weight."
Tracks
Feist - "Mushaboom"
Pilot Speed - "Knife-Grey Sea"
Cowboy Junkies - "Sweet Jane"
The Band - "The Weight"
K.D. Lang - "Constant Craving"
Rufus Wainwright - "Cigarettes and Chocolate Milk"
Sarah McLachlan - "Angel"
Ron Sexsmith - "All in Good Time"
Kate and Anna McGarrigle "Entre la Jeunesse et la Sagesse"
Great Lake Swimmers - "Your Rocky Spine"
The Be Good Tanyas - "Ootischenia"
Broken Social Scene - "Swimmers"
Holly Cole - "I Can See Clearly Now"
Diana Krall - "Temptation"
Leonard Cohen - "Anthem"
Various Artists - Northern Songs - 2008 - Hear Music 389
---
[History] [Members] [Library] [Discography] [Videography] [Filmography] [Pictures] [Audio Files] [Video Clips] [Tape Archive] [Concerts] [Related Artists] [Merchandise] [Guestbook] [Chat Room] [Search] [What's New?] [Main Page]
Webmaster