Various Artists: Nuggets
Original Artyfacts from the First Psychedelic Era, 1965-1968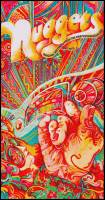 Compiled by rock critic and future Patti Smith Group guitarist Lenny Kaye, Nuggets, originally released in 1972 as a 27-track double album, was the anthology responsible for reviving interest in mid-1960s American garage / pre-punk rock. After that album fell out of print, Rhino did an extensive Nuggets series (twelve LPs, three CDs) that included much of the material from the original compilation and added a lot more. A four-CD, 118-song box set wit the same title was released by Rhino in 1998, intended as the ideal summation/expansion of the Nuggets concept. This box opens with the 27 tracks from the 1972 LP and includes Kaye's original liner notes.
The Band / Hawks are present on the 1966 track "Moulty" on the original Nuggets release, backing up the Barbarians' one-handed drummer and singer Victor Moulton. For more about this recording, see the page for the Barbarians' album Are You A Boy Or Are You A Girl.
Tracks
I Had Too Much To Dream (Electric Prunes)
Dirty Water (Standells)
Night Time (Strangeloves)
Lies (Knickerbockers)
Respect (Vagrants)
Public Execution (Mouse)
No Time Like The Right Time (Blues Project)
Oh Yeah (Shadows Of Knight)
Pushin' Too Hard (Seeds/Saxon, Sky)
Moulty (Barbarians)
Don't Look Back (Remains)
Invitation To Cry (Magicians)
Liar, Liar (Castaways)
You're Gonna Miss Me (Thirteenth Floor Elevators)
Psychotic Reaction (Count Five)
Hey Joe (Leaves)
Romeo & Juliet (Michael & Messengers)
Sugar And Spice (Cryan Shames)
Baby Please Don't Go (Amboy Dukes)
Tobacco Road (Blues Magoos)
Let's Talk About Girls (Chocolate Watch Band)
Sit Down, I Think I Love You (Mojo Men)
Run, Run, Run (Third Rail)
My World Fell Down (Sagittarius)
Open My Eyes (Nazz)
Farmer John (Premiers)
It's-A-Happening (Magic Mushrooms)
Sidemen
(only members of The Band listed)
Rick Danko, Bass
Levon Helm, Drums
Garth Hudson, Organ
Richard Manuel, Piano
Robbie Robertson, Guitar
Various Artists - Nuggets - 1972 - LP Sire SASH-3716
Box set CD: Rhino 75466 (1998)
Numerous re-releases on LP and CD.
---
[History] [Members] [Library] [Discography] [Videography] [Filmography] [Pictures] [Audio Files] [Video Clips] [Tape Archive] [Concerts] [Related Artists] [Merchandise] [Guestbook] [Chat Room] [Search] [What's New?] [Main Page]
Webmaster