Garth Hudson:
Music for Our Lady Queen of the Angels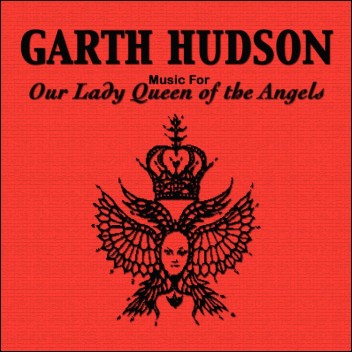 [Order CD!][CD cover] [Casette cover] [Cover detail] [About the exhibition]
A heavenly musical experience of mood heightening & consciousness expanding textures... Garth Hudson's cosmic ode to the city of Los Angeles and it's 200th birthday celebrations.
--from Other Peoples Music's press release, September 2005
In 1980, Garth Hudson was involved in a project with sculptor Tony Duquette, at the Los Angeles Museum of Science and Industry. The music that Garth wrote and played for this exhibition was recorded, and Garth released it on tape under the title Our Lady Queen of the Angels (subtitled "A Celebrational Environment by Tony Duquette") on his own label Buscador Music as EGH (Eric Garth Hudson) 770.

Garth does some beautiful, haunting keyboard work. Some of it is shear wizardry in sound effects, considering the computer and synth technology available at the time of the recording. A few of the sounds on Our Lady Queen of the Angels are not instruments, but Maud Hudson and Richard and Arlie Manuel "singing" to sound like instruments, along with a variety of Californian Wren calls with stream-side and pool-side frogs recorded by Hudson himself in Malibu. In the middle of it, Charlton Heston reads a poem to Los Angeles written by Ray Bradbury.

According to the Duquette Foundation of the Living Arts, the cassette tapes are no longer available, due to a tragic fire in 1989.

Our Lady... was finally released on CD by the Canadian Other Peoples Music label in November 2005. The CD follows the original cassette-only sequence and was restored and remastered from the original 1980 recordings.
Tracks
Side 1
Music For Our Lady Queen Of The Angels (470K)
Poetic Invocation
Music For The Garden Of The Angels
Side 2
Music For Our Lady Queen Of The Angels (730K)
Music For The Garden Of The Angels
Music For Our Lady Queen Of The Angels (reprise)
Credits
Composer - Garth Hudson
Narration - Charlton Heston
Poem written by - Ray Bradbury
Vocals - Maud Hudson
Backing Vocals - Richard Manuel, Arlie Manuel, Larry Kegel
Garth Hudson - Our Lady Queen of the Angels - 1980 - Buscador Music EGH 770
Manufactured by The Duquette Foundation Of The Living Arts
CD - 2005 - Other Peoples Music - OPM 6602
---
[History] [Members] [Library] [Discography] [Videography] [Filmography] [Pictures] [Audio Files] [Video Clips] [Tape Archive] [Concerts] [Related Artists] [Merchandise] [Guestbook] [Chat Room] [Search] [What's New?] [Main Page]
Webmaster