Amy Fradon: Passion Angel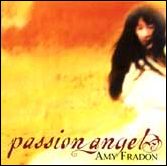 [CD cover]
Amy Fradon is a natural, down-home folksinger who doesn't just sing her heart out. She puts in the very essence of her entire being, with a beautiful, larger than life voice. She lifts you straight up into a higher plane where a mere song can become a truly moving, spiritual experience. This album, her first solo effort after a long duet-partnership, and also her debut as a producer, is a testament to her wonderful songwriting and a joyous fanfare of vocal harmonies. She is surrounded by some of the best musicians around, all great friends, for an intimate, musical celebration. ... This record is filled with real gems, outstanding songs that speak right to the heart.
-- Frank Matheis, Hudson Valley Music
Amy Fradon's 2000 album Passion Angel features Rick Danko, Lucy Kaplansky, John Sebastian, Artie Traum, Tim Moore and other Woodstock-based artists.
Fradon has been part of the Woodstock music scene since she first arrived in the village in 1975, at the age of 15. Her first recording session was done at Levon Helm's barn/studio, and in 1980 she appeared with Maria Muladaur and Richard Manuel on Happy Traum's Bright Morning Stars. Toghether with singer Leslie Ritter she has released the albums Amy & Leslie (1990) and Take Me Home (1994). See the Amy Fradon home page for more information about her music.
Tracks
Long Black Coat
Purciís Faith
Markus Aurelius
Find A Way To Fly
Passion Angel
The Famous Dancemore
Rock Me Now'
Mark My Words
Fat Cat
Helpless Again
She Loved Moses
Angel Moon 13. Come Home
Deep In Gold
Sidemen
Amy Fradon
Gary Burke
Tim Moore
Ken McGloin
Rick Danko
John Sebastian
Jay Ungar
Produced by Amy Fradon assisted by Chris Andersen. Engineer Chris Andersen.

Amy Fradon - Passion Angel - 2000 - ?
---
[History] [Members] [Library] [Discography] [Videography] [Filmography] [Pictures] [Audio Files] [Video Clips] [Tape Archive] [Concerts] [Related Artists] [Merchandise] [Guestbook] [Chat Room] [Search] [What's New?] [Main Page]
Webmaster