Aunt Pat: Patoo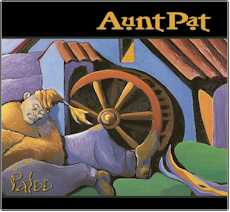 ...Aunt Pat packed up their equipment and prepared to depart NRS studios, just outside fabled Woodstock, NY, where they had just finished cutting the track "Hard Inside" from their second album Patoo. As they prepared to exit, track collaborator and rock luminary, Levon Helm, turned towards the band and in his raspy, seasoned voiced told them "You got something special here... you got you a band."
Aunt Pat is a six-piece folk-rock from Philadelphia, PA, in which the five core members are related either by blood or law. Their first recording experience produced the debut, self-titled CD, which was created, for the most part, in their basement on 8-track, and was released in March of 1996. Then, through many arduous but rewarding journeys, the band made it all the way to Woodstock to record a duet with famed drummer on the original "Basement Tapes", Levon Helm. What was the overall lesson learned from this trek? "Don't let the bastards pull you apart. I think that's what Levon was trying to tell us", muses singer and rhytm guitarist Blake Allen.


"Georgia" single

On bass guitar, and co-producing and engineering both of Aunt Pat's recordings, you will find Brian McShane, who also learned drums for and played various guitars, percussion, and cello on the first album. Michael McShane, who cites both Led Zeppelin and Radiohead as influences, tastefully incorporates distorted electric guitars within Aunt Pat's vocal harmonies and sharpens the edges of their folk-rock sound. Sister of Brian and Michael, Kerry Kay, provides lead vocals on half the tracks on Patoo. Her vocal style is comparable in grit to Melissa Etheridge, but she also has the ability to be more celestially sonorous like Sarah Maclaughlin. Mollie McShane Allen rounds out the blood ties of Aunt Pat and provides lead and backing vocals. You can recognize Mollie by her subtle emotional delivery and by her soaring harmonies, which she has been developing since childhood. Equally impressive is her artwork, which decorates the album and all of Aunt Pat's promotional material. Finally on the backbeat, laying down and propping up the backbone to these harmonic ditties is accomplished session drummer Chuck Treece.

The track "Hard Inside" was recorded in 1998 in Aaron Hurwitz' NRS studio in West Hurley, NY, with Levon Helm on mandolin and backing vocals. Aaron Hurwitz produced and engineered, and also played accordion. The song also appears as a bonus track on the CD single "Georgia".

See the Aunt Pat web site for more about the album and the band.
Tracks
13th Sign
Georgia
Little Brother
Hard Inside
Oscar
Satellite
My Life
Everything Well
Gemini
South Of Home
Aunt Pat - Patoo - 1999 - Orchard / IOU Records
---
[History] [Members] [Library] [Discography] [Videography] [Filmography] [Pictures] [Audio Files] [Video Clips] [Tape Archive] [Concerts] [Related Artists] [Merchandise] [Guestbook] [Chat Room] [Search] [What's New?] [Main Page]
Webmaster