Soundtrack Album: Phenomenon
Phenomenon Soundtrack Explores Mystical Heartland
---
Review copied from the MovieTunes WWW site, which also include sound samples from the album.
---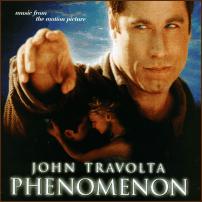 HOLLYWOOD (June 1996) -- "There's a place out there, in the middle of America where this story unfolds, that's like no other on earth. And there's a certain sound that belongs only to that place. It's almost impossible to describe unless you've been there, but once you've made the connection, you never forget it. It's a place we called 'the mystical heartland.'"
So says Robbie Robertson of the impetus and point of creative departure for one of the most remarkable soundtrack albums in recent memory.
Phenomenon, directed by John Turteltaub and starring John Travolta, with Kyra Sedgwick, Forrest Whitaker and Robert Duvall, is a film that tells of extraordinary events in the lives of ordinary people; a story that, by its very nature, suggests the spiritual realities surrounding us. The task of evoking, enhancing and expanding on those realities relies, to an unprecedented degree, on a soundtrack that ranges far and wide to capture the mood of this rare and resonant film.
Music from the motion picture Phenomenon, released by Reprise Records, is already an out-of-the-gate smash thanks to its debut single "Change The World," featuring the potent combination of an Eric Clapton performance with production by Babyface. It's the sort of innovative musical mix-and-match that not only evokes the timeless quality of that "mystical heartland" but points the way to an entirely new kind of creative synergy.
That synergy, in turn, is mirrored in the, remarkable teamwork that went into the creation of the Phenomenon soundtrack. Along with Robertson, Executive Soundtrack Producer for the project, the album brings together the diverse talents and encyclopedic experience of such executives and producers as Kathy Nelson, President of Music for the Wait Disney Motion Picture Group; Danny Bramson, newly appointed Senior Vice President of Soundtrack Development for Warner Bros. Records, Inc.; film score composer Thomas Newman and acclaimed producers Don Was, Trevor Horn and the abovementioned Babyface.
"It was a real pleasure working in the studio with Eric Clapton," remarked Babyface of the historic London session that yielded "Change The World." "His music is legendary and he is truly one of the entertainment industry's musical geniuses."
Genius is a word that might fairly be applied to a number of key Phenomenon selections. Where else, for example, would you find Aaron Neville performing a Don Was production of Van Morrison's "Crazy Love" with Robbie Robertson on guitar? Or Bryan Ferry performing "Dance With Life. (The Brilliant Light)," a song written especially for the film by Bernie Taupin and Martin Page and produced by Trevor Horn? Or, for that matter, fast-rising newcomer Jewel singing John Hiatt's "Have A Little Faith In Me," with Was once again behind the board?
"Phenomenon is one of those unique soundtracks that defines the very best of what this business can be," says Danny Bramson, a man who, with credits ranging from the multi-platinum Singles to the smash Higher Learning, knows whereof he speaks. "It was especially gratifying for me to be able to bring this in as the first project at my new job here at Warner Bros. and Reprise Records, it just doesn't get any better."
That sentiment is echoed by Disney's Kathy Nelson, whose own credits include such substantial hits as Ghostbusters and Jurassic Park. "From the very beginning we knew we had both a very special film and a rare opportunity to create some great music around that film. There was a quality to the script that just naturally lent itself to a musical interpretation."
For Don Was, helping to shape the Phenomenon tunestack offered a chance to interface with the film's director John Turteltaub. "Kathy sent me the script," the Grammy-winning producer explains, "and it was simply one of the best I'd ever read. But what was really unique about working on this project was the input provided by John. Here was a director who not only knew what he wanted out of the music, but trusted his instincts implicitly. Front the very beginning we knew where we were going and that made all the difference in getting there."
"I worked as closely as possible with Kathy and Robbie and everyone else involved in the music," concurs Turteltaub. "Together we evolved this notion of an canhy, timeless sound from the heartland, although we went around the world to find that quality. One of the great things about working with this team was that nothing, absolutely nothing, tied us down. If we could think of it, we could think of a way to make it happen."
"After we saw a rough cut, we started putting together clues, trying out notions and ideas that might fit," explains Robertson, best known in film realms for his work with Martin Scorcese, including most recently, Casino. "For instance, the Forrest Whitaker character in the film is a major Motown fan. We wanted to find something in that vein, but it had to be unique, which meant none of the obvious choices. That's how we came up with "Piece of Clay."' An obscure Marvin Gaye track, "Piece Of Clay" is another Phenomenon highlight and an example, as Robertson puts it, of "what's fun about putting together soundtracks. You get the chance to turn people on to music they might not have ever heard. The Dorothy, Moore track "Misty Blue," for example, is a song I've always loved. I've just been waiting to find the right place to put it. The same is true of "Corinna" by Taj Mahal and J.J. Cale's "A Thing Going On." I'm also a huge fan of New Orleans music and, in the film, there's a sequence that his a distinct Hispanic flavor. I was able to combine the two with "Para Donde Vas," by The Iguanas, a New Orleans band with a real Latin texture to their music."
In addition to the richly hued songs on Phenomenon's soundtrack is the evocative orchestral piece "The Orchard," from Thomas Newman's exquisite score. Phenomenon's new selections demonstrate the same sort of inspired approach to the art of matching sound and vision. Creating an opportunity for Trevor Horn to work with Bryan Ferry on a Bernie Taupin and Martin Page original is the personification of that approach. "It's always a great experience," asserts Horn, "when you get to work with an artist like Bryan, who you admire greatly but may not have the chance to produce, an entire album with. It's pan of the wonderful chemistry that only soundtracks can really afford."
The same is true of another prime Phenomenon cut, "I Have The Touch," by Peter Gabriel. "We really liked the song as it was originally recorded," explains Turteltaub, "but the arrangement was too sharp-edged and techno for the feet of the scene. So Robbie got together with Peter and essentially re-did the entire song, adding his own guitar to provide the earthy feel we were after."
But perhaps the best example of the powerful team spirit brought to bear on the Phenomenon soundtrack is with the album's centerpiece, the abovementioned Eric Clapton and Babyface collaboration, "Change The World." "I had gotten a publishing demo of the song," explains Kathy Nelson, "and thought it had real possibilities for the theme of the movie. Lyrically, it had little to do with the story, but that 'mystical heartland' essence was right there. We had always thought it would be great to have Eric Clapton somewhere in this score because he, perhaps better than anyone, captured that essence. Robbie put in a call to Eric and I put in a call to Babyface, without even knowing that the two of them had been wanting to work together for a couple of years. It was the perfect alignment of timing, talent and material.
Music from the motion picture Phenomenon is more than simply an aural souvenir of a magical movie experience. It is the cutting edge of a collaborative art-form whose time has come.
Tracks
Change The World (Eric Clapton)
Dance With Life (Bryan Ferry)
Crazy Love (Aaron Neville & Robbie Robertson)
Corinna (Taj Mahal)
Have A Little Faith (Jewel)
I Have The Touch (Peter Gabriel)
Piece Of Clay (Marvin Gay)
Para Done Vas (The Iguanas)
Misty Blue (Dorothy Moore)
A Thing Going On (J.J. Cale)
The Orchard (Thomas Newman)
Sidemen
(only members of the Band listed)
Robbie Robertson, producer/guitar
Soundtrack Album - Phenomenon - 44:53 - 1996 - Reprise Records 46360
---
[History] [Members] [Library] [Discography] [Videography] [Filmography] [Pictures] [Audio Files] [Video Clips] [Tape Archive] [Concerts] [Related Artists] [Merchandise] [Guestbook] [Chat Room] [Search] [What's New?] [Main Page]
Webmaster