Soundtrack: Raging Bull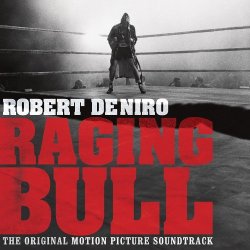 [CD cover] [Film Poster]
Soundtrack produced by Robbie Robertson for Martin Scorsese's 1980 film Raging Bull, a violent biopic starring Robert De Niro as 1949 boxer Jake La Motta. Robertson wrote the source music, scored three pieces, and helped select additional songs for the film. Soundtrack release in 2005 by Capitol, with 37 tracks on 2 discs.
From Robbie's sleeve note:
"When Marty asked me to do the source music (which is music that takes place live within the story; in this case it was being played by a trio at the Copacabana and other night spots) for Raging Bull, I enlisted the talents of Garth Hudson on piano and Richard Manuel on drums, both from The Band. Larry Klein - a much respected bassist and producer- played acoustic bass. It may have looked like convenient casting on my part, but I knew as well as anybody what an amazing stylistic musician Garth is, and with Richard on drums there was no way the tracks would get too slick or too polished, keeping a certain raw quality that Marty wanted. I didn't play guitar on these tracks because I had recently broken my hand in an unfortunate confrontation. We recorded four tunes and three of them Marty placed in the picture seamlessly, with one of them reprising in the end credits."
--Robbie Robertson, Los Angeles, August 2004
Scorsese says "Raging Bull should have become an album; the (performing) rights became crazy. I really went to a lot of trouble with the music. I love Robbie Robertson's music at the beginning and the end, over the credits what you hear is just him moaning over the drum machine. It was just a cassette he sent me and now it's on 70mm." (Q Interview, March 1987).

The Main Title sounds like fairly straight classical film music. Music is credited to Pietro Masagani, and three classical pieces are listed: Cavelleria Rusticana Intermezzo, Guglielmo Ratcliff Intermezzo and Silvano Bacarolle, all played by Orchestra of Bologna Municop Theatra. At the beginning of the credits we hear Robbie moaning over a beat, then the Main Title comes back in later replaced by a piano with soundtrack talking behind it. Robbie's credits come right at the end:
At Last (Gordon / Warren, 1942)
A New Kind of Love (Fain / Kahal / Norman, 1930)
Webster Hall (Hudson/ Robertson)
The Robbie Robertson tracks are all credited as 'Robbie Robertson' though Webster Hall is written by Hudson-Robertson so a rare Garth credit. The musicians listed for these tracks are:
Garth Hudson - piano, sax,
Richard Manuel - drums
Larry Klein - bass
Dale Turner - trumpet (Oingo Boingo Band)
Produced and arranged by Robbie Robertson
Garth Hudson also lists Raging Bull (Cues) among his ASCAP writing credits.
Other songs heard in the film are by Ella Fitzgerald, The Ink Spots, The Mills Brothers, Bob Crosby & The Bobcats, Ted Weems, Tony Bennett, Harry James, Gene Krupa, Nat King Cole, Louis Prima, Perry Como, Russ Colombo, Artie Shaw, Larry Clinton, Frankie Lane, Marilyn Monroe, The Hearts and Ray Charles. Phew! I get the point about permissions.
--Peter Viney
Tracks
Disc 1
Cavalleria Rusticana Intermezzo - Orchestra of Bologna Municop Thetra
Jersey Bounce - Benny Goodman & His Orchestra
Prisoner of Love - Russ Columbo
Just One More Chance - Bing Crosby
Cow - Cow Boogie
Vivere - Carlo Buti
Whispering Grass (Don't Tell the Trees) - The Ink Spots
Two O'Clock Jump - Harry James & His Orchestra
Drum Boogie - Gene Krupa & His Orchestra
All or Nothing at All - Harry James & His Orchestra
Flash - Harry James & His Orchestra
My Reverie - Larry Clinton & His Orchestra
Stornelli Fiorentini - Carlo Buti
Webster Hall - Robbie Robertson
Big Noise from Winnetka - Bob Crosby & the Bob Cat Orchestra
Frenesi - Artie Shaw & His Orchestra
Do I Worry? - The Ink Spots
Turi Giuliano - Orazio Strano
Disc 2
Silvano Barcarolle - Orchestra of Bologna Municop Thetra
Stone Cold Dead in the Market - Ella Fitzgerald
Nao Tenho Lagrimas - Patrício Teixeira
Heartaches - Ted Weems & His Orchestra
A New Kind of Love - Robbie Robertson
Till Then - The Mills Brothers
Mona Lisa - Nat King Cole
That's My Desire - Manny Klein
Guglielmo Ratcliff Intermezzo - Orchestra of Bologna Municop Thetra
Bye, Bye, Baby - Marilyn Monroe
That's Entertainment - Robert DeNiro
Blue Velvet - Tony Bennett
Scapricciatiello (Infatuation) - Renato Carosone
Come Fly with Me - Frank Sinatra
Medley - Louis Prima
Lonely Nights - The Hearts
Prisoner of Love - Perry Como
Cavalleria Rusticana Intermezzo - Orchestra of Bologna Municop Thetra
At Last - Robbie Robertson
Soundtrack - Raging Bull - 2005 - Capitol Records 60322
Video: United Artists PES 99513, 1989, DVD 2000, Special Ed. DVD 2004

---
[History] [Members] [Library] [Discography] [Videography] [Filmography] [Pictures] [Audio Files] [Video Clips] [Tape Archive] [Concerts] [Related Artists] [Merchandise] [Guestbook] [Chat Room] [Search] [What's New?] [Main Page]
Webmaster