Levon Helm & the RCO All-Stars
Live at the Palladium, New Years Eve 1977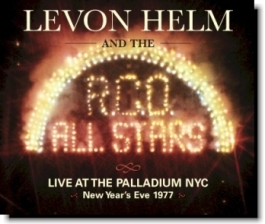 Historic live album starring Levon Helm and the RCO All-Stars recorded live at the Palladium in New York City on New Years Eve 1977/1978. The album features over one hour of live tracks by a star studded cast of musicians playing to the excitement of a New Years Eve crowd in the greatest city in the world. This classic collection of American music features Levon Helm (drums/vocals), Dr. John (keys/vocals, Paul Butterfield (harmonica/vocals), Fred Carter (guitar/vocals), Donald "Duck" Dunn (bass), Steve Cropper (guitar), Lou Marini (saxophones), Howard Johnson (tuba/baritone sax), Tom "Bones" Malone (trombone) and Alan Rubin (trumpet).
Release by Levon Helm Studios in March 2006.
This is a must-have album, superb performances with the drums loud and to the fore, wonderful horn arrangements, a great "Ophelia" and the opening track "Ain't That A Lot of Love" is way better than the rather weak rendition by The Band on Islands. It's also a very crisp, clear mix, suggesting that this was always seen as a possible release. New tracks (i.e. not on the original RCO All Stars album) include "Ain't That A Lot Of Love," "Goin' Back to Memphis," "Born in Chicago," "Got My Mojo Working" and "Goodnight Irene." With a band comprising Duck Dunn, Dr John, Steve Cropper, Paul Butterfield, Fred Carter Jnr and the TLW horn section, you can't go wrong. You're mad if you don't order it today!
--Peter Viney, the "GB", March 2006

See also Viney's review from Record Collector magazine, June 2006.
Tracks
Levon Helm & the RCO All-Stars - 2006 - Levon Helm Studios CD-LHS-03
---
[History] [Members] [Library] [Discography] [Videography] [Filmography] [Pictures] [Audio Files] [Video Clips] [Tape Archive] [Concerts] [Related Artists] [Merchandise] [Guestbook] [Chat Room] [Search] [What's New?] [Main Page]
Webmaster