Lucky Man Clark: Seaworthy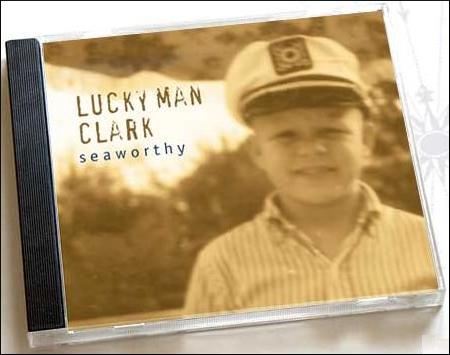 This is what is so great about my job. I can be having the worst day and then all of a sudden the mailman tosses a disc in my box that makes me abandon my post on the roof viewing the world through the crosshairs. Just when you think you've heard and know everything (a real problem of mine) along comes a lesson in humility. LMC is a six man band with some pretty impressive friends. Working a retro-Americana sound that harkens back to the early Band and some of the music from Woodstock New York this Nashville based band churns out sixty-six minutes of impressive roots music. Augmenting the core band is Levon Helm, Garth Hudson, (hence the Band sound) Jim Horn, Bobby Keys, Garry Tallent and many more. It's easy to be impressed by the musicianship, but the real star is the strong songs. It jumps styles a bit, but never falls off the beam. Stay tuned for four hidden tracks at the end of the disc that most albums would be proud to have in the regular lineup. Nice packaging and booklet on this one for a first time album.
--Village Records review
Lucky Man Clark is Joe "Guido" Welsh's band. Guido has over 30 years experience as a writer, performer, multi-instrumentalist and producer. For the last 15 years, he has numerous original music compositions for several national and international companies, and has since 1992 provided all the live musical direction for hundreds of Wal-Mart, Sam's Club, and Wal-Mart International events in both the United States and abroad. As the songwriter and leader of several Kansas City bands including The 4Sknns, The Artists, The Gweedles, and others, he performed live between 1971-1994 using the stage name Guido Toledo. His 2002 album, titled Seaworthy, features Levon Helm and Garth Hudson from The Band (Guido connected with Helm and Hudson through The Band web site). Also appearing are Garry Tallent from the E Street Band, Joey Spampinato from NRBQ, Jerry Dale McFadden from The Mavericks, producer/guitarist deluxe Richard Bennett, woodwind legends Bobby Keys and Jim Horn, with string arrangements on a couple of tunes by Jimmie Haskell.
Levon plays drums on the album. Garth plays a 1959 Lowrey Festival organ, the same model he used to play with The Band and the Hawks.
See the Guidotoons and Lucky Man Clark web sites for more about Guido and this album. Seaworthy is available from Village Records.
Tracks
(all songs written by Guido except "Merry Little Christmas" by Guido with Phil Brown and Randy Morrow)
What The Hell?
Kickin' My Heart Around
Blue
Merry Little Christmas
Apocalypso
A Place Where I'll Be Free
Everything Has Changed
(Hallelujah) Yer On Yer Own
Set Me Free
The Devil
Real Life
Get Over Yourself

"Hidden" Bonus tracks:

Airplane Landing in Crickets
(with Garth on vocals(!) and piano)
Bonus track #2
Bonus track #3
Bonus track #4
Credits
Lucky Man Clark is:
Jeff Armstrong - Keyboards
Paul Griffith - Drums/ Percussion
Dave Jaques - Electric And Upright Bass
Jerry Dale Mcfadden - Keyboards
Kenny Vaughan - Guitars
Joe "Guido" Welsh - Guitars/ Keyboards/ Mandolin/ Percussion/ Vocals
With:
Richard Bennett - Guitars
Steve Conn - Keyboards
Rusty Danmyer - Pedal Steel
Jimmie Haskell - Conductor/ Arranger
Levon Helm - Drums
Jim Hoke - Bass And Chromatic Harmonica
Jim Horn - Alto And Bass Flute/ Tenor And Baritone Sax
Garth Hudson - Lowrey Organ
Bobby Keys - Tenor And Baritone Sax
Mike Mcadam - Slide Guitar
The Nashville String Machine - Strings
Mike Noble - Acoustic Guitars
Steve Patrick - Trumpet/ Valve Trombone
Vinnie Santoro - Harmony Vocal
Joey Spampinato - Electric Bass
Garry Tallent - Electric Bass
And the Lucky Man Choir:
Kim Keyes
Marshall Hall
Ann Mccrary
Michael Mellett
Produced, arranged and engineered by Joe "Guido" Welsh with very capable assistance from Chris Biggs. Additional engineering by Steve Marcantonio and Rich Hanson and S. Husky Hoskulds.

Recorded at Guidotoons/ Nashville May-November 2001. Mixed december 2001 by Guido at Omnisound/ Nashville.

Lucky Man Clark - Seaworthy - 2002 - Grown Up Records

---
[History] [Members] [Library] [Discography] [Videography] [Filmography] [Pictures] [Audio Files] [Video Clips] [Tape Archive] [Concerts] [Related Artists] [Merchandise] [Guestbook] [Chat Room] [Search] [What's New?] [Main Page]
Webmaster