Mulch: Reasons to Quit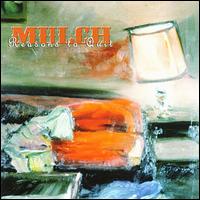 Mulch is a garage band from Crockett and Rodeo California, playing a mix of metal, grunge, punk and straight ahead rock. On their 1999 debut Reasons to Quit they cover The Band's "The Weight."
Album review from Splendid, Dec 1999:
With Long Beach, California churning out so many Sublime-esque bands these days, it's nice to see that there's still some rock left in the area. Up and comers Mulch do their best to fill out SoCal's alternarock category, and they actually do it quite well. Fifteen tracks of power guitar riffs and intense drumming, with vocals by a guy named Snydley (who could replace Michael Stipe in a heartbeat) fill Reasons to Quit. With a sound much like REM, The Foo Fighters and even a little bit of The Dave Matthews Band, Mulch are a major-label shoo-in whose sound makes them seem like they'll get snatched up soon. If their live show is as energetic and powerful as their cd, get out to see these guys live before the clubs get too crowded, which won't take long at all.
Tracks
Hand It Over (Mulch/Snydley)
Icy Road (Mulch/Snydley)
Greener Skies (Mulch/Snydley)
Devil X (Mulch/Snydley)
Tinsel Town (Mulch/Snydle)
Fast Food Music (Much/Snydley)
Nothing New (Mulch/Snydley)
Take All the Money Away (Mulch/Snydley)
Dear Aunt Rosie (Mulch/Snydley)
Practice Round (Mulch/Snydley)
Say That Someone Else Said (Mulch/Snydley)
The Weight (J.R. Robertson)
It Might Be Wrong (Mulch/Snydley)
Risky Battle (Mulch/Snydley)
Reasons to Quit (Haggard)
Mulch - Reasons to Quit - 1999 - Ditch Bank 102
---
[History] [Members] [Library] [Discography] [Videography] [Filmography] [Pictures] [Audio Files] [Video Clips] [Tape Archive] [Concerts] [Related Artists] [Merchandise] [Guestbook] [Chat Room] [Search] [What's New?] [Main Page]
Webmaster