Various Artists: Red, Hot and Regal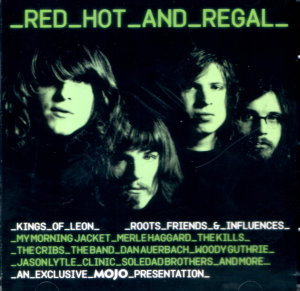 Red, Hot and Regal was the July 2009 Mojo magazine cover disc. It supposedly tracks the "roots, friends and influences" of The Kings of Leon, who according to the front cover are "the world's biggest band." Take that with a pinch of salt.
The CD "reflects the grand eclecticism and rootsical (sic) passion of the four siblings behind this world conquering band". It's not clear whether the Kings of Leon or Mojo decided on their roots and influences.
Track 7 is "Daniel and The Sacred Harp" (Alternate Take) by The Band from the Stage Fright remaster.
QUOTE: "The Followhills unorthodox childhood, travelling the South state to state, wherever their father's work led, may have been perfect training for a life in rock & roll but a strict parental code (no TV, no R-rated movie, church music only) meant they heard little rock. One exception was the southern gospel / backwoods country of The Band. This tale of Old Testament propehcy would have met with family approval."
Which doesn't actually say among the "may have been" and "would have met" whether they ever heard it. No one heard the alternate take outside the Band circles until 2002 that's for sure. Still, The Band sit comfortably on a fine cover disc with Woody Guthrie, Tampa Red, Bukka White and (sittin' in the backseat listening to) Little Willie John.
--Peter Viney
Tracks
The Cribs: Girls Like Mystery
The Kills: U.R.A. Fever
Jason Lytle: Yours Truly, The Commuter
Clinic: Tomorrow
Merle Haggard: Sing Me Back Home
Woody Guthrie: Vigilante Man
The Band: Daniel and the Sacred Harp
The Maddox Brothers and Rose: When God Dips His Love in My Heart
My Morning Jacket: Toch Me I'm Going to Scream Pt. 1
Dan Auerbach: The Prowl
Soledad Brothers: Crooked Crown
Tampa Red: It Hurts Me Too
Little Willie John: Need Your Love So Bad
Bukka White: Shake'Em On Down
Various Artists - Red, Hot and Regal - 2009 - Mojo Cover Disc
---
[History] [Members] [Library] [Discography] [Videography] [Filmography] [Pictures] [Audio Files] [Video Clips] [Tape Archive] [Concerts] [Related Artists] [Merchandise] [Guestbook] [Chat Room] [Search] [What's New?] [Main Page]
Webmaster