The Last Hombres: Redemption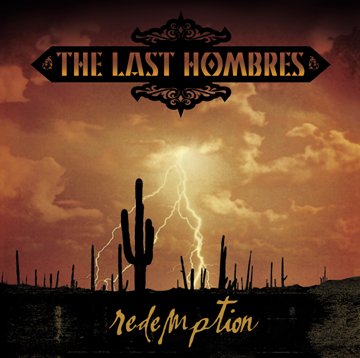 [Press release] [Promo photo] [2002 CD] [Session photos] [Sound samples]
The country-rock trio The Last Hombres from Sea Cliff, NY, released their promising debut disc back in early 1999. According to the Grateful Dead fanzine Relix "one could easily think this band is from Texas or some other border town, despite the New York origins."
The Hombres' second album, Redemption, was recorded in the summer of 2001 at Pie Studios, Glen Cove, NY and released on an indie label in 2002. Re-released by Koch Entertainment in January 2003, with new cover art.
Levon Helm drums on all 12 tracks. Ex-New Riders of the Purple Sage pedal steel ace Buddy Cage, who played with The Band in the '80s, is also present on the album.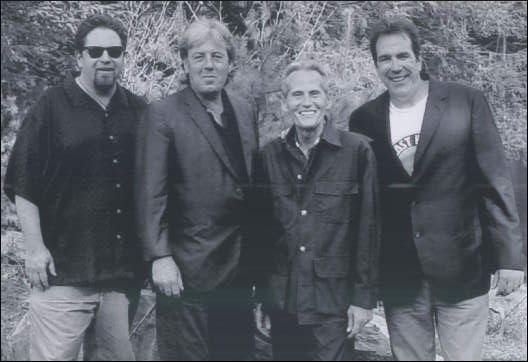 Levon Helm w/ The Last Hombres, 2001
Tracks
| | | |
| --- | --- | --- |
| 1. | King of Memphis | |
| 2. | It's Alright Norma | |
| 3. | St. Estephe | |
| 4. | Humble Enough | |
| 5. | Cadillac | |
| 6. | Jordan Town | |
| 7. | Swoon | |
| 8. | Slow Train | |
| 9. | Still Love | |
| 10. | Archangel | |
| 11. | River Road | |
| 12. | San Remo | |
Credits
Michal Meehan, bass, vocals, producer
Paul Schmitz, rhytm guitars, vocal, harmonica, dobro, producer
Russ Seeger, lead guitars, producer, fiddle, dobro

Levon Helm, drums
David Maxwell, piano
Buddy Cage, pedal steel
Cathy Kreger. vocals
George Fullan, producer
Vin McAuliffe, engineer
Perry Margouleff, mastering
The Last Hombres - Redemption - 2002 - Black Rock
2003 - Koch Progressive KOC-CD-8477
---
[History] [Members] [Library] [Discography] [Videography] [Filmography] [Pictures] [Audio Files] [Video Clips] [Tape Archive] [Concerts] [Related Artists] [Merchandise] [Guestbook] [Chat Room] [Search] [What's New?] [Main Page]
Webmaster