Various Artists: Rock & Roll with Piano Vol. 6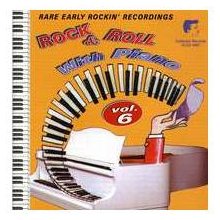 "Real rockin' rarities for those who like their 50s Rock 'n' Roll with lots of pumpin' poundin' piano! Packed with rare original Rock 'n' Roll with 30 tracks including Carl Dean, Frank Patterson, Chuck Jones, Mickey Lynn, Danny Diamond, The Spacemen & lots more."
Includes Paul London & the Capers with Garth Hudson doing a cover of the Mello-Tones' 1957 hit "Rosie Lee", recorded in 1961 with Arman Boladian at RCA-Victor's Toronto Studio.
Tracks
Carl Dean - Wait Till The Sun Comes Down
The Bartenders - Ballad Of Big Otis
Frank Patterson - My Baby Can
Gary Ray & The Charms - What'cha Gonna Do
Hila King - Death Valley
Dick Lamb - The Kilt Twist
Chuck Jones - Dance With Me
Wes Warren - That's Alright Mama
Phil Soffos - Rock All Night
Mickey Lynn - Want-Ad For You
Vinnie Monte - Naughty Naughty Baby
Paul London & The Capers - Rosie Lee
Danny Diamond & The Rubies - The Badman
Mike Kelly - Heart Breaker & A Leaver
Cookie & Charlie - Let's Go Rock 'n' Roll
Herbie Smith - So Wild Over You
Joyce Gray - I'm Confused
Jerry Doell - Tree Tops
The Spacemen - Smokey
Carl Dean - Jenny Jenny
Art Buchanan - Time Will Tell
Johnny Bush - Your Kind Of Love
Tilton Sisters - Bird Dog
Unknown Artist - Pinball Boogie
Kenny Everett - What Is It?
Dave Carlson - Dave's Blues
Rick Bennett & The Jesters - Go On Home
Wallace Waters - Good Better Best
Chester & Ruby - I've Got A Notion
Carl Dean - Go Go Go Johnny Go
Various Artists - Rock & Roll with Piano Vol. 6 - Raucous Records - 2003
---
[History] [Members] [Library] [Discography] [Videography] [Filmography] [Pictures] [Audio Files] [Video Clips] [Tape Archive] [Concerts] [Related Artists] [Merchandise] [Guestbook] [Chat Room] [Search] [What's New?] [Main Page]
Webmaster