Chip Taylor: Seven Days in May...a Love Story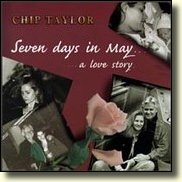 Chip Taylor is an American singer-songwriter, best known perhaps for writing "Wild Thing" which was a huge hit for the Troggs a long time ago. He's also written "Angel of the Morning," "Any Way That You Want Me," "Try (Just a Little Bit Harder)" and many rock and country songs that were hits for the Troggs, Hollies, Waylon Jennings, Anne Murray and more. After some fine but underappreciated '70s country troubadour albums, Taylor spent more than a few disgruntled years away from the music biz, choosing to return via Gadfly, a small label in Vermont, in 1996 with Hit Man. Chips's real last name is Voigt - the actor Jon is his brother.
This album is in the traditional singer/songwriter style with duets with Lucinda Williams and Guy Clark. Garth Hudson, on keyboards and accordion, and Rick Danko, on backing vocals, are present on several tracks.
Tracks
Seven Days In May (Rick Danko, backup vocal)
I Will Be Standing Again (Garth Hudson, keyboards)
Through Their Mothers Eyes
Just Keep Holding On (Garth Hudson, keyboards)
Florence, The Baby And Me (Rick Danko, backup vocal)
If I Donīt Know Love (Garth Hudson, keyboards)
One Hell Of A Guy
Florence Is The River (Garth Hudson, keyboards)
Oh Florence
Alexander (Garth Hudson, accordion)
How Can I Get Through This (Garth Hudson, keyboards)
Walk Away From You
All My Days
Chip Taylor - Seven Days in May...a Love Story - 1998 - Train Wreck Records TW 007
---
[History] [Members] [Library] [Discography] [Videography] [Filmography] [Pictures] [Audio Files] [Video Clips] [Tape Archive] [Concerts] [Related Artists] [Merchandise] [Guestbook] [Chat Room] [Search] [What's New?] [Main Page]
Webmaster