Geoff Muldaur: Shiver Me Timbers!
Best of The Early Recordings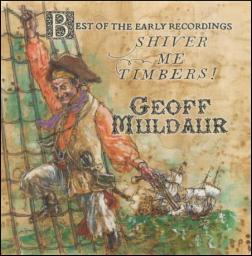 [CD cover]
2-CD set with tracks from '70s albums by Woodstock guitarist Muldaur and his wife Maria. Each CD ends with two previously unreleased bonus tracks. The first bonus track on disc 2, Ronnie Barren's "It Was Meant To Happen," is from a 1976 recording session for Warner where Garth Hudson played Leslie organ. From Geoff Mauldaur's liner notes:
I've added two previously unreleased demos which I cut for Warner Brothers after Motion (my 2nd album on WB). The first of these, "It Was Meant To Happen", was written by my old friend, the wild man from Algiers, Louisiana, Ronnie Barron. I would not have included it here, were it not for the definitive Amos Garrett solo and Garth Hudson's unique organ backup.
Shiver Me Timbers! was released in 2002 on Muldaur's own label, with cover artwork by Eric Von Schmidt.
Guitarist Geoff Muldaur, one of many artists to emerge from the folk, blues, and folk-rock scenes centered in Cambridge and Woodstock, was already a well-known blues performer at the time he met up with old-time folk enthusiast Jim Kweskin. Sharing the bill at a 1963 concert in Boston, the two shared many musical interests, and when Kweskin was approached by Vanguard Records, he brought Muldaur into his group the Jim Kweskin Jug Band. This association led to many successful albums and marriage to the group's fiddle player Maria D'Amato (later Maria Muldaur). Four years and five successful albums later, the couple migrated to Woodstock, NY, where they became part of a new musical community that included Bob Dylan, The Band, Paul Butterfield, and many other notable artists. They divorced in 1972, and Geoff began producing local and national blues artists, as well as making his own recordings. He also composed scores for film and television, earning an Emmy in the process, and his definitive recording of "Brazil" was featured in Terry Gilliam's film of the same title. Muldaur has toured Britain, Germany, and Ireland, and appeared at Carnegie Hall, Royal Festival Hall, the Kennedy Center, "A Prairie Home Companion," the San Francisco Blues Festival, and the Winnipeg and Edmonton Folk Festivals. After breaking away from his solo recordings and performances in the late 80s, Geoff returned to the studio for 1998's The Secret Handshake and 2000's Password while a live performance during this resurgence, Beautiful Isle of Somewhere, was released in 2003. His blues-folk stylings are born of respect for music's history, from the perspective of a contemporary artist very much of his own era.
--Zac Johnson, All-Music Guide
Tracks
Disc 1
Tracks 1-5 from Geoff & Maria Muldaur: Pottery Pie (Reprise 6350), 1970.

Catch It
New Orleans Hopscop Blues
Prairie Lullabye
Brazil
Death Letter Blues

Tracks 6-11 from Geoff & Maria Muldaur: Sweet Potatoes (Warner Brothers 2073), 1972.

Havana Moon
Lazybones
Dardanella
I'm Rich
Lover Man (Oh Where Can You Be)
Hard Time Killin' Floor

Bonus tracks 12-13 from Sweet Potatoes sessions, 1972.

Prelude In E Minor (previously unreleased demo)
Old Train 29 (previously unreleased demo)
Disc 2
Tracks 1-6 from Geoff Muldaur: Is Having A Wonderful Time (Reprise 2220), 1975.

Livin' In The Sunlight
Geee Baby Ain't I Good To You
99 1/
I Want To Be A Sailor/Why Should I Love You
Jailbird Love Song
Tennessee Blues

Tracks 7-11 from Geoff Mauldaur: Motion (Reprise 2255), 1976.

Since I've Been With You Babe
What Do You Want The Girl To Do
Motion
Southern Night
Hooray For Hollywood

Bonus tracks 12-13 from sessions for Warner Bros. after Motion.

It Was Meant To Happen (previously unreleased demo)
Bad Feet (previously unreleased demo)
Geoff Muldaur - Shiver Me Timbers! - 2002 - Geoff Muldaur's own label (?)
---
[History] [Members] [Library] [Discography] [Videography] [Filmography] [Pictures] [Audio Files] [Video Clips] [Tape Archive] [Concerts] [Related Artists] [Merchandise] [Guestbook] [Chat Room] [Search] [What's New?] [Main Page]
Webmaster