Nils Lofgren : Silver Lining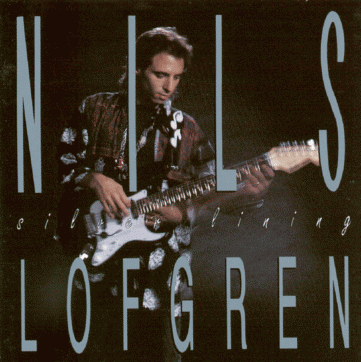 Nils Lofgren had to put his solo career on the backburner during his five years of guitar duty with Bruce Springsteen & the E Street Band. But he made up for lost time with Silver Lining, one of the most confident albums of his solo career. Lofgren is supported on the album by the core rhythm section of bassist Kevin McCormick (bassist and producer for Melissa Etheridge) and drummer Andy Newmark, as well as a stellar cast of guest rockers including Springsteen, Ringo Starr, Levon Helm, Billy Preston and Clarence Clemons. Co-producers Lofgren and McCormick recorded most tracks live in the studio with a minimum of overdubs, in an effort to capture the excitement of Nils' live performances. As usual Nils' guitar playing ranges from lithe to ferocious, often on the same track. The soulful honesty of his vocals is also intact; on the leadoff single "Valentine" he trades harmonies with Brue Springsteen. Other album highlights, like the bluesy "Trouble's Back" and full-on rockers "Walkin' Nerve" (later a highlight of his sets with Ringo Starr's All-Starr Band) and "Sticks and Stones," show off the sharply honed songwriting style that Nils has long been known for.
Levon Helms sings on three tracks, including "Silver Lining" and "Trouble's Back", on this 1991 album from guitarist/singer/E Street Band member Nils Lofgren.
Tracks
Silver Lining
Valentine
Walkin' Nerve
Live Each Day
Sticks and Stones
Trouble's Back
Little Bit O' Time
Bein' Angry
Gun and Run
Girl in Motion
Sidemen
(only members of the Band listed)
Levon Helm, harmonica/vocal
Nils Lofgren - Silver Lining - 49:09 - 1991 - Rykodisc RCD-10170
AMG Rating: 5 (out of 9)
---
[History] [Members] [Library] [Discography] [Videography] [Filmography] [Pictures] [Audio Files] [Video Clips] [Tape Archive] [Concerts] [Related Artists] [Merchandise] [Guestbook] [Chat Room] [Search] [What's New?] [Main Page]
Webmaster