The Northern Pikes: Snow In June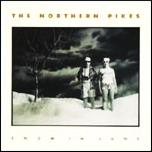 Formed in 1984 in Saskatchewan, Canada, Northern Pikes released their album debut, Scene in North America, in 1985. The band, comprised of Meryl Bryck (vocals, guitar), Bryan Potvin (vocals, guitar), Jay Sembo (vocals, bass) and Don Schmid (drums), then released three consecutive Canadian platinum albums: Big Blue Sky (1987), Secrets of the Alibi (1989) and Snow in June (1990). Neptune, released in 1992, had a minor U.S. hit called "She Ain't Pretty." Gig appeared in 1993, and the group split up later the same year. They reunited in 1999, touring and releasing new material.
Snow in June, recorded at Bearsville Studios near Woodstock, NY, features great accordian and organ from Garth Hudson and thundering piano from Stan Szelest, particularly notable on the song "Kiss Me You Fool." Stan was a member of The Band at that time.
A couple of videos were made for this album, featuring both Garth and Stan playing along. Rumors say either Rick Danko or John Sebastian also turns up in one of the Northern Pikes videos.
Some of the songs from Snow in June surfaced again on the 1999 Northern Pikes compilation Hits & Assorted Secrets 1983-1993.
Tracks
Dream Away
Love These Hands
Kiss Me You Fool
She Ain't Pretty
Tomorrow Never Comes
Shadow Of Doubt
Shotgun Morning
Isn't It Lovely
Unimportant
Am I In Your Way
Girl With A Problem
Greenfields
Snow In June
Sidemen
(only members of the Band listed)
Garth Hudson, keyboards/organ/accordion
The Northern Pikes - Snow In June - 56:46 - 1990- Virgin Records - VL/VL4-03084/V2-86634
Also: 1991 - Scotti Bros. 75223-2
---
[History] [Members] [Library] [Discography] [Videography] [Filmography] [Pictures] [Audio Files] [Video Clips] [Tape Archive] [Concerts] [Related Artists] [Merchandise] [Guestbook] [Chat Room] [Search] [What's New?] [Main Page]
Webmaster