Rotary Connection: Songs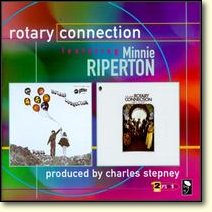 The brainchild of Chess Records executive Marshall Chess, Rotary Connection represented the label's most successful attempt to expand into the rock/psychedelic market in the late '60s. Chess recruited three members of a White rock band, added a couple of female singers and Chess vocalist Sidney Barnes, and backed them up with star musicians from Chess' house band, including guitarist Pete Cosey and bassist Phil Upchurch. Arranger Charles Stepney co-wrote a lot of songs on their debut album, a desperately trendy effort that combined soul, folk-rock, psychedelic sitars, and quasi-classical themes and orchestration. Yet the band remains most noted for one of the female vocalists, Minnie Riperton, who graced many of the tracks with her impossibly high operatic sopranos. The self-titled debut album balanced original material with unlikely, even absurd, covers of contemporary rock hits by Dylan, the Rolling Stones, and the Beatles. "Amen" and "Lady Jane" were underground FM-radio favorites, and the record sold very well in Chicago and a few other Midwestern cities, though it didn't create much of a stir elsewhere. Rotary Connection hung on for five more albums, but it's the first record that listeners remember, if they recall the group at all. Riperton, her freaky five-octave range intact, went on to brief solo stardom in the 1970s.
Rotary Connection concocted a sort of pop-soul-rock-psychedelic brew on Songs, a record devoted wholly to covers, mostly of late 1960s songs by Cream, Hendrix, the Band, Otis Redding, Stevie Wonder, and the Rolling Stones. Both ambitious and kitschy, it put arranger and producer Charles Stepney's soaring orchestral arrangements to pop-soul vocals, the spaciest layer provided by Minnie Riperton's higher-than-high lead and backup singing. It's interesting as an illustration of how late-'60s rock could be stretched and interpreted in a way that few would expect -- the tempos and arrangements of the songs are changed in manners that often make them unrecognizable -- but not a total success, as the new approaches overwhelm and subsume the material as much as they redefine it. Songs has been paired with the 1971 album Hey Love on a single-CD reissue by BGP.
-- Richie Unterberger, All-Music Guide
Rotary Connections covers "The Weight" on their fifth album Songs from 1969.
Tracks
Respect
The Weight
Sunshine of Your Love
I've Got My Mojo Working
Burning of the Midnight Lamp
Tales of Brave Ulysses
This Town
We're Going Wrong
Salt of the Earth
Rotary Connection - Songs - 1969 - Cadet 322
Single-CD reissue that pairs the 1969 LP Songs with the 1971 LP Hey Love, BGP 115, 1998.
---
[History] [Members] [Library] [Discography] [Videography] [Filmography] [Pictures] [Audio Files] [Video Clips] [Tape Archive] [Concerts] [Related Artists] [Merchandise] [Guestbook] [Chat Room] [Search] [What's New?] [Main Page]
Webmaster