Ronnie Hawkins: Still Cruisin'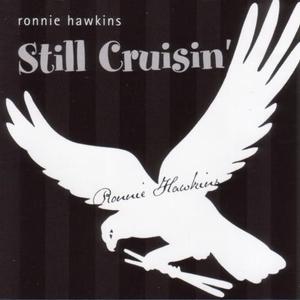 [CD cover] [Back cover] [Inside tri-fold] [Robbie Robertson session photos]
2002 release from The Hawk. Both Robbie Robertson and Levon Helm did session work in 2000 for this album. Three of the tracks were released by Sony Canada in 2001, on the compilation Can't Stop Rockin'. Produced by Robin Hawkins (Ronnie's son) at The Tragically Hips studio in Kingston Ontario.
New material includes the cut "Can't Stop Rockin", written by Robin Hawkins (who currently plays guitar in his father's band,) the song "Blue Moon in My Sign" with Levon Helm and Robbie Robertson, Colin Linden's song "Promise Road" with Levon on drums, Colin Linden on guitar and Richard Bell on organ, and "Friendship" with Kris Kristofferson.
Levon and Robbie recorded their respective mandolin/drums and guitar parts on "Blue Moon in My Sign" in separate studio sessions in 2000, without knowing about each others' contributions. "Levon and Robbie still ain't talkin' to each other after 26 years, but they play fine together - just not at the same time," was Hawkins' comment.
Tracks
| | |
| --- | --- |
| 1. | Can't Stop Rockin' (Robin Hawkins) |
| 2. | Friendship (Peter Sabourin) |
| 3. | Blue Moon In My Sign (Alex Harvey) |
| 4. | Isn't That So (Jesse Winchester) |
| 5. | Foolish (Ray Bonneville) |
| 6. | Dangerous (Alex Harvey, Leigh Reynolds) |
| 7. | Five Dollar Fine For Whining (Alex Harvey) |
| 8. | I'm A Lover Not A Fighter (JD Miller) |
| 9. | Promise Road (Colin Linden, Kevin Gordon) (1.4MB) |
| 10. | If That's What I Get (Alex Harvey, JD McFadden) |
| 11. | Down In The Alley (Burns, Brurke, Martin, Marvin) |
Ronnie Hawkins - Still Cruisin' - 2002 - Hawk Records 0515
---
[History] [Members] [Library] [Discography] [Videography] [Filmography] [Pictures] [Audio Files] [Video Clips] [Tape Archive] [Concerts] [Related Artists] [Merchandise] [Guestbook] [Chat Room] [Search] [What's New?] [Main Page]
Webmaster