Various Artists: Tangled up in Blues
Songs of Bob Dylan - This Ain't No Tribute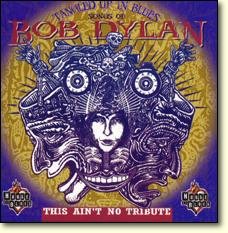 Dylan tribute album, with The Band doing a wonderful newly recorded version of "One Too Many Mornings", with special guest Derek Trucks. The line-up is Rick - vocal/bass, Levon - drums/harmonica. Garth - Hammond B3 organ, Derek Trucks-slide guitar, Jim Weider-guitar, Richard Bell-electric piano, Randy Ciarlante-congas.
The liner notes mention that One Too Many Mornings "is a song The Band played with Dylan at all 47 concerts they played together in 1966". Rick is doing his best Danko-ised Dylan vocal, Levon's harmonica weaves it's way in and out of the entire song, Garth's B3 sounds straight out of 1965/66, and Derek Trucks' slide guitar is a nice touch.
See Peter Viney's article for a discussion of the 1966 Dylan/Hawks version and the 1999 Band version of "One Too Many Mornings".
This is the third album in the House of Blues label's "Songs of..." series, the first two were Blues Down Deep - Songs of Janis Joplin and Paint It Blue - Songs of the Rolling Stones. Relase date July 13 1999.
Two reissues of this CD, both titled All Blues'd Up!, appeared in July 2002 in the US (Compendia Music Group 9619) and in the Netherlands in 2003 (Smith & Co, Sound & Vision BV SCCD 1001) The reissue CDs have the same tracks, but with different sequence and new artwork. The original track credits and liner notes by Paul Williams are used, but the bios of each artist have been deleted.
Tracks
The Band - One Too Many Mornings (12.6MB)
Larry McCray - All along the Watchtower
Taj Mahal - It Takes a lot to Laugh, It Takes a Train to Cry
Mavis Staples - Gotta Serve Somebody
R.L. Burnside - Everything Is Broken
Isaac Hayes - Lay Lady Lay
Alvin Youngblood Hart - Million Miles
Holmes Brothers - Wallflower
Luther 'Guitar Jr.' Johnson - Pledging My Time
John Hammond - I'll Be Your Baby Tonight
James Solberg - Ballad of a Thin Man
Leon Russell - Watching the River Flow.
The track listing for the 2002 US reissue is:
Taj Mahal - It Takes a lot to Laugh, It Takes a Train to Cry
Mavis Staples - Gotta Serve Somebody
Lay, Lady, Lay - Isaac Hayes
R.L. Burnside - Everything Is Broken
Luther 'Guitar Jr.' Johnson - Pledging My Time
John Hammond - I'll Be Your Baby Tonight
James Solberg - Ballad of a Thin Man
Alvin Youngblood Hart - Million Miles
Leon Russell - Watching the River Flow
The Homes Brothers - Wallflower
Larry McCray - All Along the Watchtower
The Band - One Too Many Mornings
Various Artists - Tangled up in Blues - 1999 - House of Blues 1458 / Platinum Entertainment
US reissue: All Blues'd Up! - 2002 - Compendia Music Group 9619
Dutch reissue: All Blues'd Up! - 2003 - Smith & Co, Sound & Vision BV SCCD 1001
---
[History] [Members] [Library] [Discography] [Videography] [Filmography] [Pictures] [Audio Files] [Video Clips] [Tape Archive] [Concerts] [Related Artists] [Merchandise] [Guestbook] [Chat Room] [Search] [What's New?] [Main Page]
Webmaster