Motoharu Sano and The Hobo King Band: The Barn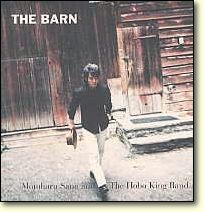 Motoharu Sano is one of the most famous rock singers in Japan. He recorded his album titled The Barn at Bearsville Sound Studio in Woodstock in August 1997, with musical contributions from Garth Hudson and John Simon. John Simon also produced this album, that was released December 1st 1997.
See also the Japanese web pages for this album, that includes a short video clip with Garth Hudson and John Simon.
Tracks
Theme of "Armadillo on the Run" (Motoharu Sano)
Young Forever (Motoharu Sano
Seven Days (Are not Enough) (Motoharu Sano)
Manassas (Motoharu Sano)
Hey La La (Motoharu Sano)
The Answer (Motoharu Sano)
Doctor (Motoharu Sano)
An Ordinary Girl (Motoharu Sano)
Nobody Cares (Motoharu Sano)
Drive (Motoharu Sano)
Rock and Roll Heart (Motoharu Sano)
Zucchini - The Hobo King Dream (John Simon)
Sidemen
Motoharu Sano, vocal/guitar
Yoshiyuki Sahashi, guitars/back-up vocals
KYON, guitars/piano/organ/accordion/mandolin/vocals
Tomio Inoue, bass/back-up Vocals
Yutaka Odawara, drums/percussion
Akira Nishimoto, organ/keyboards
John Simon, producer/tambourin on track 4
Garth Hudson, accordion on track 4
John Sebastian, harmonica/vocal on track 11
Eric Weissberg, pedal steel on track 9
Bashiri Johnson, percussion on track 4, 5
Motoharu Sano and The Hobo King Band - The Barn - 1997 - Epic/SONY Records Japan ESCB-1849
---
[History] [Members] [Library] [Discography] [Videography] [Filmography] [Pictures] [Audio Files] [Video Clips] [Tape Archive] [Concerts] [Related Artists] [Merchandise] [Guestbook] [Chat Room] [Search] [What's New?] [Main Page]
Webmaster