The Lemonheads: The Lemonheads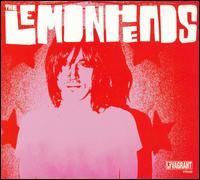 One of the most beloved bands of to emerge from the Boston post-punk scene of the late 80's, The Lemonheads released three albums on Taang! before signing to Atlantic Records. They released their breakthrough album, It's A Shame About Ray in 1992 and it went on to sell over a million copies worldwide. "Into Your Arms," a track from their 1993 disc, Come On Feel The Lemonheads was their first single to hit the Billboard charts. After the release of Car Button Cloth in 1996 the band toured extensively - playing festivals worldwide, from Europe and the UK to South America. Dando took a break from the Lemonheads in the late 90's to concentrate on his solo recording. He released Baby I'm Bored, in 2003.
The Lemonheads (release date September 2006) is the band's eighth studio album and their first in ten years. Garth Hudson plays keyboards on "Black Gown" and "December."
Tracks
Black Gown
Become The Enemy
Pittsburgh
Let's Just Laugh
Poughkeepsie
Rule of Three
No Backbone
Baby's Home
In Passing
Steve's Boy
December
The Lemonheads - The Lemonheads - 2006 - Vagrant/Polydor 440
---
[History] [Members] [Library] [Discography] [Videography] [Filmography] [Pictures] [Audio Files] [Video Clips] [Tape Archive] [Concerts] [Related Artists] [Merchandise] [Guestbook] [Chat Room] [Search] [What's New?] [Main Page]
Webmaster