Jerry Lee Lewis: Last Man Standing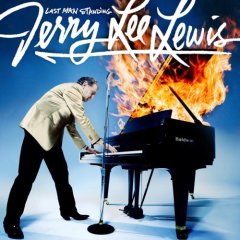 [CD cover]
September 2006 release (working title was The Pilgrim) from "The Killer," recorded in 2005 with an amazing list of guest artists. Robbie Robertson duets with Jerry Lee on a cover of The Band's "Twilight".
The band that cut most of the basic tracks consists of Kenny Lovelace and Jimmy Rip on guitar, Hutch Hutchinson on bass and Jim Keltner on drums. Producer Jimmy Rip about the guest stars: "It was 20 of the easiest phone calls I ever had to make. Everyone wanted to play with the Killer."
Tracks
Rock 'n' Roll
Led Zeppelin song with Jimmy Page on guitar
Before The Night Is Over
With B.B. King on guitar
Pink Cadillac
Duet with Bruce Springsteen
Evening Gown
Duet with Mick Jagger, Ron Wood on slide guitar
You Don't Have To Go
Duet with Neil Young
Twilight
Duet with Robbie Robertson
Travelin' Band
Duet with John Fogerty
That Kind Of Fool
Duet with Keith Richards
Sweet Little Sixteen
With Ringo Starr on drums and Ivan Neville on organ.
Just A Bummin' Around
Duet with Merle Haggard
Honky Tonk Women
Duet with Kid Rock
What's Made Milwaukee Famous (Has Made A Loser Out Of Me)
Duet with Rod Stewart
Don't Be Ashamed Of Your Age
Duet with George Jones
A Couple More Years
Duet with Willie Nelson
Old Glory
Duet with Toby Keith
Trouble In Mind
With Eric Clapton on guitar
I Saw Her Standing There
Duet with Little Richard.
Lost Highway
Duet with Delaney Bramlett
Hadacol Boogie
With Buddy Guy on guitar
That's What Makes An Irish Heart Sing
Van Morrison song, duet with Don Henley with Kenny Lovelace on fiddle
The Pilgrim Ch.33
Duet with Kris Kristofferson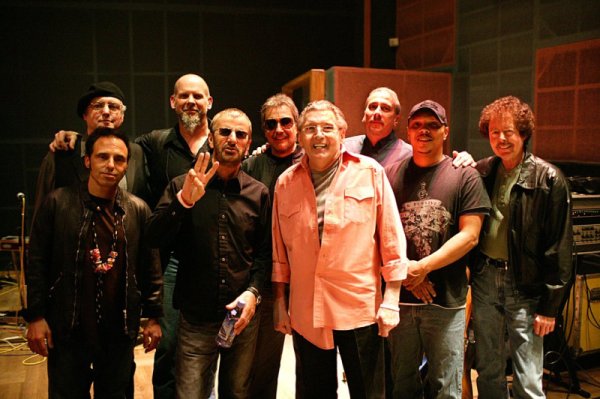 L-r: Keith Allison, Nils Lofgren, Jimmy Rip, Ringo Starr, Jim Keltner, Jerry Lee Lewis, Hutch Hutchinson, Ivan Neville and Kenny Lovelace. From Last Man Standing sessions, The Record Plant, Los Angeles, CA, March 2005.
Musicians
B. B. King
Bruce Springsteen
Mick Jagger
Ronnie Wood
Neil Young
Toby Keith
John Fogerty
Keith Richards
Robbie Robertson
Merle Haggard
Kid Rock
Rod Stewart
Willie Nelson
George Jones
Nils Lofgren
Little Richard
Delaney Bramlett
Buddy Guy
Don Henley
Kris Kristofferson
Eric Clapton
Ringo Starr
Jerry Lee Lewis - Last Man Standing - 2006 - Art1st 20001
---
[History] [Members] [Library] [Discography] [Videography] [Filmography] [Pictures] [Audio Files] [Video Clips] [Tape Archive] [Concerts] [Related Artists] [Merchandise] [Guestbook] [Chat Room] [Search] [What's New?] [Main Page]
Webmaster