Peach: The Real Thing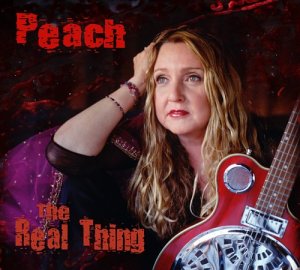 January 2004 CD from L.A.-based contemporary blues artist and songwriter Peach, who was named Blues Artist of the Year in 2001 by the prestigious L.A. Music Awards, followed up with an Award of Excellence in 2002. Critics claim she has vocal qualities similar to Maria Maldaur and Bonnie Raitt.
Peach is joined on The Real Thing by a group of players that includes blues legend Taj Mahal, who duets with Peach on the title track, Garth Hudson of The Band, Paul Barrere (Little Feat), James Gadson, Lee Thornburg, Amos Garrett and Reggie McBride.
Garth Hudson recorded his contributions to The Real Thing in June 2003, with producer Marty Grebb, former music director for Bonnie Raitt, at the controls. Garth can be heard very well on tracks 8 (keyboards), 12 (saxophone), and 13 (accordion).
Tracks
1.
Lie Down
2.
Come Up & See Me Sometime
3.
Someone Else Is Steppin' In
4.
Love You
5.
Beyond My Wildest Dreams
6.
Won't Be Long
7.
The Real Thing
(1.4MB)
8.
Dance With Me Henry
9.
Starin' You In The Face
10.
The Cure For You
(1.4MB)
11.
Might Have A Move Or Two
12.
Big Back Beat
(480K)
13.
I Must Be In A Good Place Now
(720K)
Musicians
Peach - vocals, guitars
Garth Hudson - accordion, keyboards, saxophone
Taj Mahal - vocals
Amos Garrett - guitar
Reggie McBride - bass
Maria Martinez - drums
John Molo - drums
Gary Mallaber - drums
James Gadson - drums
Danny Timms - keyboards
Marty Grebb - keyboards, saxophones, producer
Jimmy Roberts - saxophone
Cece Worrall - saxophone
Lee Thornburg - trumpet
Johnny Lee Schell - guitar
Paulie Cerra - saxophone
Lynn Keller - bass
Earle Mankey - engineer
Peach - The Real Thing - 2004 - Blues Rock Records 788
---
[History] [Members] [Library] [Discography] [Videography] [Filmography] [Pictures] [Audio Files] [Video Clips] [Tape Archive] [Concerts] [Related Artists] [Merchandise] [Guestbook] [Chat Room] [Search] [What's New?] [Main Page]
Webmaster