Los Lobos: The Ride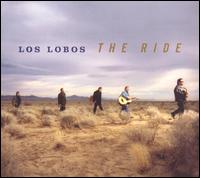 May 2004 album from veteran latino rockers Los Lobos, with a guest list including Elvis Costello, Tom Waits, Richard Thompson, The Band's Garth Hudson, Mavis Staples, R&B legend Bobby Womack and many others.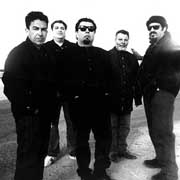 Los Lobos, 2004

"It took a little gymnastics, but we did it," Los Lobos' multi-instrumentalist Louie Perez says about making the guest-filled album . "Mavis and Bobby, we had to go to them. We'd send Garth Hudson a file and he'd go nuts on it. Waits, we sent an eight-track cassette and he messed around with it and sent it back. Then there were days where I'd pull up to Cesar's [guitarist Rosas] house and I look in the rearview mirror and Richard Thompson's pulling in behind me. There were so many different ways it got done, but this was really a needle and thread sewn into the fabric of what we're all about."

Garth Hudson plays on the tracks "La Venganza de los Pelados", where he does a piano solo on the end of the song, and "Chains of Love." Back in 1990, Levon Helm contributed vocals and mandolin to Los Lobos' great album The Neighbourhood.
Tracks
La Venganza de los Pelados (with Cafe Tacuba and Garth Hudson)
Rita (Mitchell Froom)
Is This All There Is (Thee Midnighters' Willie G)
Charmed
Somewhere in Time (Dave Alvin)
Wicked Rain/Across 110th Street (Bobby Womack)
Kitate (Tom Waits and Quetzal's Martha Gonzales)
Hurry Tomorrow
Ya Se Va (Ruben Blades and Alberto Salas)
Wreck of Carlos Rey (Richard Thompson)
Someday (Mavis Staples and Lonnie Jordan)
Matter of Time (Elvis Costello)
Chains of Love (Garth Hudson)
Call from Rita 1978
Los Lobos - The Ride - 2004 - Hollywood 162443
---
[History] [Members] [Library] [Discography] [Videography] [Filmography] [Pictures] [Audio Files] [Video Clips] [Tape Archive] [Concerts] [Related Artists] [Merchandise] [Guestbook] [Chat Room] [Search] [What's New?] [Main Page]
Webmaster