Various Artists: Now Hear This!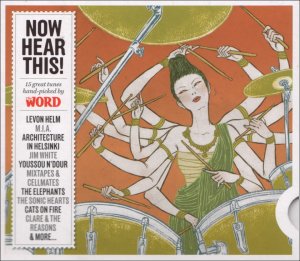 Cover CD with the December 2007 issue of UK magazine The Word (aka "Home of Intelligent Live on Planet Rock"). Track 10 is "Poor Old Dirt Farmer" from Levon Helm's magnificent solo album Dirt Farmer.
Tracks
I Am the White-Mantled King - Cats on Fire
Birdflu - M.I.A.
Heart It Races - Architecture in Helsinki
Baay Faal - Youssou N'Dour
Pluto - Clare & The Reasons
Like Something Worth Remembering - Mixtapes & Cellmates
5 Minutes - The Elephants
Oklahoma Stomp - Spade Cooley & His Orchestra
Hollow & Blue - The Sonic Hearts
Poor Old Dirt Farmer - Levon Helm
Paris - Tacks, the Boy Disaster
Poor Michael's Boat - Mark Olson
After Hours - Caribou
Crash into the Sun - Jim White
Little Red Rooster - The Malchicks
Various Artists - Now Hear This! - 2007 - ?
---
[History] [Members] [Library] [Discography] [Videography] [Filmography] [Pictures] [Audio Files] [Video Clips] [Tape Archive] [Concerts] [Related Artists] [Merchandise] [Guestbook] [Chat Room] [Search] [What's New?] [Main Page]
Webmaster