Aretha Franklin: This Girl's in Love with You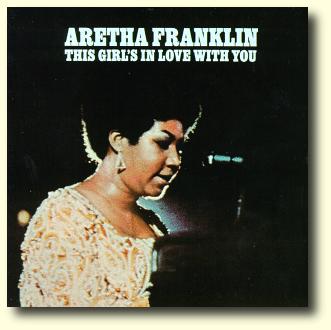 The title song (a cover of Herb Alpert's "This Guy's In Love With You") might lead you to believe this is one of Aretha's more pop-oriented albums, but in fact, this is the only song of the sort on this solid and fairly earthy effort. Besides the hit singles "Call Me" and "Share Your Love With Me," it also includes her most well-known Beatle covers ("Eleanor Rigby" and "Let It Be"), and her interesting version of "The Weight," a single featuring slide guitar by Duane Allman that reached #19 on the US charts in 1969.
Aretha's soulful version of "The Weight", live and in the studio, is also available on a large number of best-of, compilations and various-artists albums, like Aretha's Greatest Hits (Aretha Franklin, 1971, Atlantic 8295), Anthology (Duane Allman, 1972, Capricorn 0108), 30 Greatest Hits (Aretha Franklin, 1986, Atlantic 81668-2), Chain of Fools (Aretha Franklin, 1993, Rhino R2-71429), Queen of Soul: The Atlantic Recordings (Aretha Franklin, 1992, Rhino 71063), Black On White-Great R & B Covers of Rock Classics (Various Artists, 1993, Rhino 71227), The Very Best of Aretha Franklin, Vol. 1 (Aretha Franklin, 1994, Rhino 71598), Atlantic Singles (Aretha Franklin, 199?, Rhino 76007), and probably many more.
From the liner notes to the CD re-release of this classic 'Retha album:
At producer Jerry Wexler's suggestion, Aretha recorded a blues-tinged version of "The Weight," a 1968 pop hit [sic] for the rock group The Band, written by one of the group's lead singers [sic], Robbie Robertson. Wexler admitted in hindsight that choosing the song for Aretha may have been a mistake: 'I was trying to make a bridge over to the "flower children"; I bitterly regret having done "The Weight" with her. The song is totally incomprehensible to her basic rhythm & blues constituency. Aretha cannot have a big hit unless it is also a hit with her black audience. It's got to be both, so this is where commercial stupidity and greed got the upper hand with me.' Although it wasn't a giant hit when released as a single in March '69, "The Weight" did manage to make it to the #3 slot on the R&B chart. Even with its prior success for The Band, it went as far as #19 on Billboard's Hot 100, although one can conjecture that its chart rise may have been based more on airplay than on sales.
Tracks
Son of a Preacher Man (Hurley,John/Wilkins,Ronnie)
Share Your Love with Me (Braggs,Al/Malone,Deadric)
Dark End of the Street (Moman,Chips/Penn,Dan)
Let It Be (Lennon,John/McCartney,Paul)
Eleanor Rigby (Lennon,John/McCartney,Paul)
This Girl's in Love with You (Bacharach,Burt/David,Hal)
It Ain't Fair (Miller,Ronnie)
The Weight (Robertson,Jaime) (330K)
Call Me (Franklin,Aretha)
Sit Down and Cry (Otis,Clyde/Stallman,Lou)
Aretha Franklin - This Girl's in Love with You - 1970 - Atlantic 8248
---
[History] [Members] [Library] [Discography] [Videography] [Filmography] [Pictures] [Audio Files] [Video Clips] [Tape Archive] [Concerts] [Related Artists] [Merchandise] [Guestbook] [Chat Room] [Search] [What's New?] [Main Page]
Webmaster