Diana Ross & The Supremes with The Temptations: Together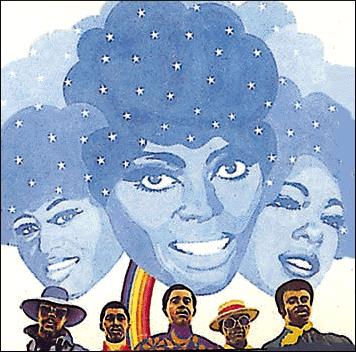 Diana Ross and The Supremes worked together with the definitive male Motown vocal group of the 1960's, The Temptations, on this 1969 album. Their version of "The Weight", also included on the Diana Ross compilation I'm Gonna Make You Love Me (Diana Ross, 1993, Spectrum 550 0752), was released on a single that reached #46 in the US the same year. It surfaced on again on the 2000 Supremes box set (Motown 159415) and in 2008 on disc 4 of The Complete Motown Singles Vol 9.
In April 2004, Motown released a 2-CD set titled Joined Together: Complete Studio Duets with all the official Supremes/Temptations recordings. This set also includes extended and unreleased songs, alternate mixes and other bonus material. Joined Together has two versions of "The Weight", the original from the Together album and a new unreleased version.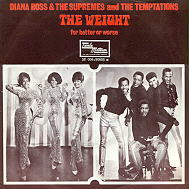 "The Weight" single
Tracks
Stubborn Kind Of Fellow
I'll Be Doggone
The Weight (J.R.Robertson)
Ain't Nothing Like The Real Thing
Uptight (Everything's Alright)
Sing A Simple Song
My Guy / My Girl
For Better Or Worse
Can't Take My Eyes Off You
Why (Must We Fall In Love)
Diana Ross & The Supremes with The Temptations - Together - 1969 - Motown 692

---
[History] [Members] [Library] [Discography] [Videography] [Filmography] [Pictures] [Audio Files] [Video Clips] [Tape Archive] [Concerts] [Related Artists] [Merchandise] [Guestbook] [Chat Room] [Search] [What's New?] [Main Page]
Webmaster